Holders of unsecured bonds 'running for the hills'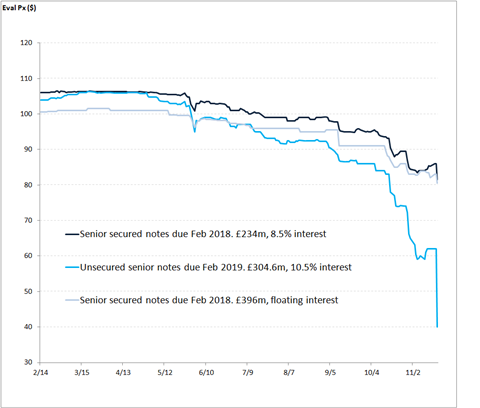 Towergate's bondholders have rushed to dump their investments following news that the company would have to sell some of the business and renegotiate its banking agreements to stave off a cash shortage in the first quarter of next year.
Towergate's unsecured loan note, which pays 10.5% interest and is due to be redeemed in 2019, was trading hands for $40 on Wednesday, a sharp decline on $62 before the broker announced it may not be able to deliver the cash flow the company needs.
The bonds have a face value of $100, and bonds sell below face value when they are consider at risk of default by the institutional investors who hold them.
The broker also announced that it was evaluating a number of bids it had received for the whole company.
"The holders of the unsecured bonds are running for the hills," said one bond insider. "The company is under a lot of strain and the likelihood of a restructuring has increased substantially since September. In any restructuring, creditors will likely have to agree to reduce the company's leverage by writing off at least some of its debt."
Holders of the unsecured notes would feel the brunt of any debt write down, the source added.
"Holders of the junior notes must be trying to liquidate their positions as quickly as they can."
Another market source said: "The bondholders must be seriously concerned as to whether they'll get their money back because it's dependent on the sale of the business at a reasonable price and it feels like they're selling under pressure and therefore not in a strong negotiating position."
Towergate is due to make interest payments on the unsecured note in February.
The price of its secured bonds, on which Towergate is due to pay interest in January, have also fallen this week. Both of its senior secured notes are trading for under face value (see chart). The company owes bondholders a total of £934.6m.
Towergate declined to comment.
Executive chairman Alastair Lyons said earlier this week he had "reasonable expectations" the company would be able to avoid a cash shortage.