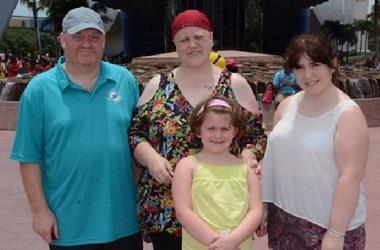 The travel insurer blamed for stranding a terminally ill woman in Florida said it has offered "all possible assistance" to help her get home.
Cancer patient Lindsey Gates, 40, broke her leg during a trip to Disneyworld Florida with her family (pictured). Doctors found her cancer had deteriorated further, and her treatment has run up a bill of $131,000 (£101,000).
"We are truly sorry for the unfortunate circumstances which have led to the position Mrs Gates and her family find themselves in. Our thoughts are with them all at this difficult time," said a spokesman for Travel Insurance Facilities Group (TIFG).
"As soon as the matter was brought to our attention, we carried out a thorough investigation into Mrs Gates's case which examined every aspect of the claim and policy terms and conditions.
"Our examination was exhaustive and regrettably conclusive. We have been in contact with Mrs Gates' family and the British Consulate to reiterate our offer of all possible assistance including help and advice in order to aid Mrs Gates' repatriation to the United Kingdom."
TIFG pointed out that, when assessing insurance risk, insurers are reliant on honest and full declarations from policyholders.
"In circumstances where there is an elevated risk, insurers will charge a higher premium or, in cases where the risk is deemed simply too high, insurers will decline to offer cover," the spokesman said.
"In circumstances where we have not been provided with accurate information to allow that assessment of risk to be undertaken, we are left with no choice but to decline cover and void those policies."