RSA, LV= and Zurich among the winners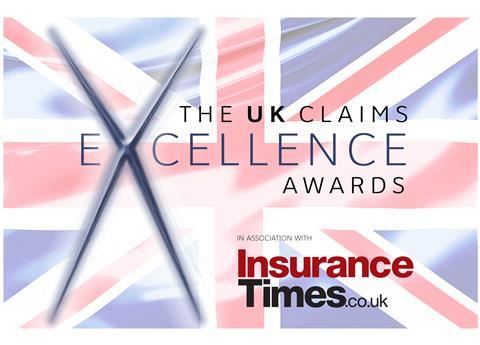 AXA's Graham Plumb scooped the Outstanding Insurer Claims Individual of the Year at last night's UK Claims Excellence Awards.
Jon Newall of Lockyer Insurance and Mike Lee of Hastings Direct picked up the Outstanding Broker Individual of the Year gongs for commercial lines and personal lines respectively.
RSA scooped two awards for Claims Technology Initiative of the Year and Insurer Customer Care Initiative of the Year.
Introducing the evening at the InterContinental Hotel, Park Lane, Insurance Times publishing director Shân Millie said: "This is our second year, and in some ways is even more special than our first. Once again, the quantity and quality of entries has been astounding, and looking around this room, it's clear that the Claims Excellence Awards have earned their place on your priority list again this year."
The full list of winners (in bold) and highly commended finalists on the night were as follows:
Claims Technology Initiative of the Year | Sponsored by RDT
RSA - Winner
Liberty Syndicate Management
XL - Highly Commended
LV=
Fraud Prevention Initiative of the Year | Sponsored by Clyde & Co
Legal & General Insurance
AXA Insurance Commercial Lines
Zurich Financial Services - Winner
Hastings Direct
Broker Customer Care Initiative of the Year | Sponsored by ACE European Group
Knowlden Titlow Insurance Brokers - Winner
R K Harrison Insurance
Moneywise Investments Plc
Insurer Customer Care Initiative of the Year
RSA [Pet Operations] - Winner
LV=
RBS Insurance - Highly Commended
RSA [Personal Motor Claims]
Claims Training Initiative of the Year | Sponsored by Merlin
RSA
Liberty Syndicate Management
XL
LV= - Winner
Motor Claims Initiative of the Year
The Brownsword Group - Winner
Provident Insurance & Service Certainty imageproofT - Highly Commended
Chartis Europe
Hastings Direct
Outstanding Claims Management Team of the Year
Gelder Group
Davies Group
QuestGates - Highly Commended
Tesco Underwriting
Merlin - Winner


Outstanding Broker Claims Team of the Year | Sponsored by Ageas
Keelan Westall / Cadogan Keelan - Winner
Lockyers
Simply Business - Highly Commended
Romero Insurance Brokers
Outstanding Insurer Claims Team of the Year | Sponsored by Xactware
AXA Personal Lines - The Lifestyle Claims Management Team
Sterling - Winner
LV=
Chubb Insurance
AXA personal Lines - Direct Motor Claims Claimant Team - Highly Commended
Outstanding Broker Individual of the Year: Personal Lines | Sponsored by AXA Personal Lines
Mike Lee, Hastings Direct - Winner
Outstanding Broker Individual of the Year: Commercial Lines
Jon Newall, Lockyer - Winner
Outstanding Insurer Claims Individual of the Year | Sponsored by AA AutoWindshields
AXA Commercial Lines - Graham Plumb - Winner
AXA Personal Lines - Malcolm Fletcher-Jones
LV= - Helen Crosbie