New cloud-based platform can manage claims between insurers whether or not a bilateral agreement is in place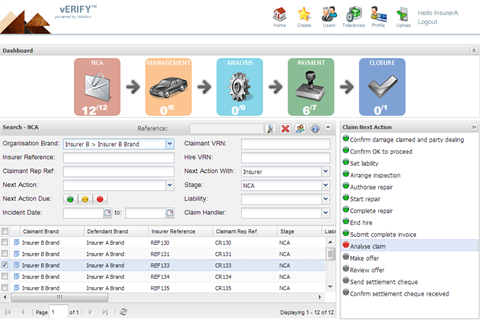 Validus-IVC has extended its claims management portal offering with the launch of a new service aimed at reducing the costs of subrogated motor claims.
The new portal, vERIFY, provides an online platform for insurers to manage the costs and progress of a motor claim between two different insurers.
The portal means both insurers can see each step of the claims process from the submission of paperwork through to final settlement through a cloud-based portal.
To accommodate the varied nature of motor claims that exists, the portal can accept all types of motor claims between insurers including those under the following arrangements:
RIPE (reduction in paper exchange);
bilateral agreements;
multilateral agreements; and
claims where no agreements exist.
The portal has already had two leading insurers sign up for the service, with Validus expecting more to sign up over the coming months.
Validus says the technology will help reduce the costs associated with subrogated claims through efficiency savings and by providing a clearer structure for the progression of a claim.
Chief executive Mike Srokowski said: "The technology helps facilitate the process for both sides, and strips out costs. Validus has delivered savings of at least 20% for insurer clients with its existing portfolio of products and there is no reason why we cannot achieve the same with vERIFY.
"This gives the industry a service that can help do things better and improve profitability. If we can bring more efficiency and transparency then it can facilitate a much cleaner and smoother process."
In July the Competition Commission probe into the private motor market found that subrogated claims can add as much as £270 to the costs of repairs for a non-fault insurer, and by as much as £300 if the claim was managed by a credit repair firm.
Extended offering
The new portal adds to the suite of products that Validus offers, which includes vALIDATE, a portal to manage claims between insurers and credit hire organisations (CHOs).
The vALIDATE portal was launched in June 2013 with the aim of saving the industry as much as £750m off the cost of claims.
Over 1,000 claimant organisations are users of the system, which works between insurers and CHOs to enable them to electronically submit and analyse claims through to settlement.
By combining vALIDATE with the newly launched vERIFY, insurers can now handle all motor claims through a single, dedicated online portal.
In addition to managing the claims process, the combined portals also offer the ability to invoice organisations insurers are recovering costs from and also verify the amounts on invoices received from other parties against agreed amounts.