JLT captures the top spot, but Hyperion, led by David Howden, is looking strong after taking over RK Harrison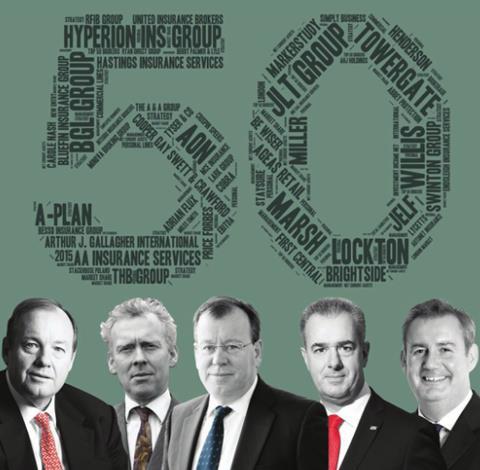 Top 50 introduction by managing editor John Manley
After two years at the top of the industry, Aon has been knocked down to third place by JLT Group in this year's Insurance Times Top 50 Brokers.
As Aon's broking revenue stood still, JLT shot past both Aon and second-placed Marsh with a blistering 13% rise in UK brokerage, to capture the top spot in what is widely recognised as the definitive ranking of the UK broking industry.
JLT has stuck by its strategy of generating strong organic growth, supplemented by prudently priced acquisitions: and it has paid off this year.
And, with Willis hanging on to fourth place, the Big Four of UK insurance broking remain unchallenged.
Brokerage growth of only 2.5% was enough for Arthur J Gallagher to hold off a strong challenge for its fifth spot from BGL, but it was not enough to catch Willis, which chalked up growth of more than 6%, and launched one of the year's biggest deals with its $18bn merger with professional services group Towers Watson.
One of the standout performances this year is by a company no longer eligible for inclusion in the Top 50 Brokers – RK Harrison. It has posted impressive growth figures over the past two years, and new owner Hyperion is set to reap the benefit.
Hyperion itself registered impressive growth figures, rising three places to eighth through a combination of organic growth and acquisition.
Also impressive has been Stackhouse Poland, which has achieved brokerage growth of 45% and maintained margins above 30%. Its strengthened management team and new financial backing promise more in the years ahead.
The highest new entrant into the Top 50 is Markerstudy, in at 22 after acquisitions including BDML and Lancaster from Capita.
Also new to the rankings is US-based Integro Insurance, which has been busy buying brokers in the UK. The healthcare, entertainment, aviation and energy broker is itself currently being taken over by private equity firm Odyssey.
There is no question that consolidation of the broking sector will continue in the coming year, with the big four competing for market share and mid-size companies like Hyperion striving to join them at the top table. Private equity has also continued its march into the broking sector, as cash-rich investors look for respectable returns in a low-interest rate world.
Finally, thanks go to IMAS, our data partners for this project. They continue to provide all the necessary information that makes the Top 50 Brokers the definitive source of rankings for UK insurance brokers. The many thousands of online searches made each month for 'Top 50 Brokers' shows this supplement is as relevant and valuable a resource as ever.
To read the Top 50 brokers, click here.
The Insurance Times Top 50 Brokers 2015, produced in association with IMAS and sponsored by Covéa Insurance, is freely available to Insurance Times subscribers. Non-subscribers can purchase copies, and additional copies can be bought for £199. Contact Eleanor Walker on eleanor.walker@insurancetimes.co.uk