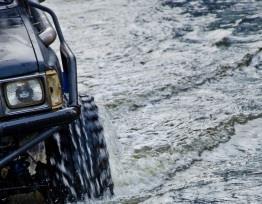 Insurers said the volume of claims following yesterday's flash floods had been manageable.
The worst hit areas in London were Havering, Barking, Dagenham, Bexley, Greenwich and Lewisham.
AXA claims technical director Martin Ashfield said claims were still coming in, but that many had experienced flash flooding where the "damage is limited to outbuildings, garages and basements".
Ashfield said: "This is not as severe to the standing water floods which occurred over Christmas and New Year, meaning it is much easier to access affected properties."
"However, we will offer alternative accommodation and emergency payments up to £1000 to customers who require it.
"As well as dealing with flood claims, we are also currently handling a small number of claims for lightning damage. We will be monitoring the weather warnings and will respond accordingly if the situation worsens."
The storms yesterday flooded commercial and domestic properties, flooded roads and trapped vehicles by flood water.
A number of properties were struck by lightning, but there were no reports of serious injuries according to the London Fire brigade.
Esure said in a statement: "We have received a small number of flood related claims where both cars and homes have been damaged.
"It's too early to say costs at this stage but we don't expect it to exceed forecasts."
ABI figures published after the December storms showed insurers made £25 million in emergency payments after the floods.
The estimated total figure was around £1.3 billion.