Admiral posted record profits for 2017 after a decline in profitability the previous year
Admiral Group is "back in the groove", reporting record profits for 2017, according to chief executive David Stevens.
Pretax profit rose 43% to £405.4m, while revenues rose 15% to £2.96bn.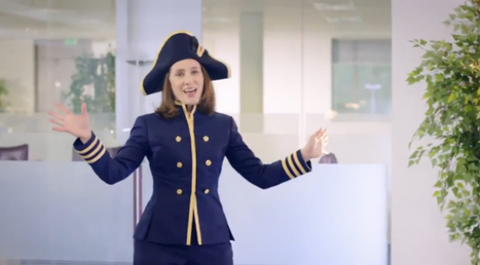 Group customer numbers rose 11% overall to 5.73 million, while UK insurance customers rose 12% to 4.62 million and international car insurance customers rose 20% to 1.03 million.
"It's 25 years since the launch of Admiral," Stevens said
"2016 was only the second year we'd ever reported a year on year fall in profits. So it's great to be back in the groove, with a 23rd year of 'record profits'," he said.
In UK insurance, there was a strong performance from the group's core UK Car business where the number of insured vehicles grew by 8% to 3.96 million.
Profitability benefited from significant prior year reserve releases.
"Whilst we devote time and resources to exploring new opportunities outside of car insurance we also recognise that this remains our core focus," said company chair Annette Court.
"We continue to invest heavily in improving our core skills as evidenced by
our continuing growth in premiums and profit."
Household insurance continues to grow, with turnover of £107.1m and a 41% increase in the number of properties insured to 0.7 million.
To prepare for Brexit, Admiral is exploring setting up an insurance company and an insurance intermediary business in Spain to support its European operations.
Admiral's Price Comparison Confused.com increased combined profit (excluding minority interests) of £7.1m, up from £2.7m.
In the UK, the high level of competition in the price comparison market and investment in marketing and product development resulted in reduced profits of £10.1m (2016: £16.1m). The international business reduced its losses, however, to £3.0m from £13.4m.