Many businesses are adapting their business model post-pandemic and seeking out on-demand insurance to cater to delivery surge, which could be a win-win situation for insurtechs
Insurtechs could benefit from the coronavirus pandemic as usage based and on-demand insurance is on the rise.
With many staff continuing to work from home, as well as retailers, cafes and restaurants recently opening but having to adapt their business models during and post-lockdown, traditional models of insurance are becoming less sought after.
For example the global usage-based insurance market is projected to reach US$77.25bn by 2026, currently this year it stands at US$25.46bn, according to a new study by Valuates Reports.
The market is expected to grow at a compound annual growth rate of 20.32% between 2020 and 2026.
Usage-based insurance has continued to attract funding despite the drop in insurtech investment, with 9.7% of drivers having this type of policy, according to GlobalData.
For most businesses, online shopping and home delivery methods have been key to staying afloat, and therefore many are using Deliveroo, Amazon and UberEats for the first time to meet the demand for home deliveries, all of which are predominantly insured by insurtechs.
And with most non-essential shops re-opening last week, reduced footfall during lockdown will mean retailers will need to continue to use online sales to recoup losses.
Janthana Kaenprakhamroy, chief executive at insurtech Tapoly told Insurance Times: "Covid-19 has certainly brought about a new way of working and many businesses are having to reinvent themselves to stay in the game."
On-demand
Kaenprakhamroy said that this also increases the need for on-demand insurance, something that insurtechs specialise in.
She added: "So what insurance would delivery drivers need? In addition to the usual cover for their vehicle they may well need public liability cover for interacting with customers.
"Depending on the value of goods delivered they may also need goods in transit cover. The changes are certainly a positive news for the gig workers and could lead to creating even more jobs, while insurtechs are working hard to bring adequate products to the market to ensure we protect this growing market segment."
Meanwhile, GlobalData insurance analyst Ben Carey-Evans said: "Flexible, digital and on-demand policies are well-suited to the current climate, where businesses will struggle to plan much beyond the immediate future.
"It is very difficult to predict how long the lockdown will continue for in its current form, so for businesses to be able to insure their delivery vehicles on-demand is ideal.
"It allows them to expand coverage in the short-term, without having to worry about being overinsured if demand for deliveries drops once lockdown fully ends."
Early on in the pandemic, there was a rise in service demands on the gig economy due to lockdown, and post-Covid-19 this looks set to continue.
Insurtech Zego has expanded its fleet partnership with RSA due to the increased demand for deliveries with the company's on-demand and telematics-drive policies.
It is now offering usage-based policies to delivery, courier or trade van fleets of 20-200 vehicles in the UK.
GlobalData's thematic companies scorecard recently ranked Zego as one of the few players who could see a moderate positive impact during the pandemic. This was because, as expected, the demand for gig economy-style products was set to increase.
Pay-by-mile
By Miles also saw policy sales saw as car users turned to pay-by-mile policies during lockdown.
Oliver Baxter, head of brand and product at By Miles, told Insurance Times: "Post Covid-19 I think there is going to be a massive shift in solo methods of transport, as I don't think people are going to be running to get back on public transport.
"I think in the short term post-Covid-19, people that have cars are certainly going to using them as a socially distancing method of transport and perhaps more vulnerable people in society who perhaps need to keep themselves shielded will need to invest in cars.
"The biggest challenge for us is if people drive less, they don't pay so much for their car insurance so our revenues decrease in line with people driving, however on the flip side the rate of claims has gone down massively."
GlobalData senior insurance analyst Daniel Pearce said: "We believe that start-ups, offering flexible, consumer friendly policies stand to benefit in the short-term, as consumers and businesses will only want to pay for what they need.''
Overhauling business models
Pret A Manger (Pret), for example, is overhauling its business model to fit the new retail environment.
Over the last month the coffee and food outlet has undertaken a major review of its operating model to ensure that it can safely and effectively open more 300 UK shops out of 400 in total and ensure it to complies with the latest guidelines on Covid-19.
Kaenprakhamroy, added: "Pret A Manger is a classic example of a business looking to adjust its business model and adapt to new ways of operating.
"Due to reduced footfall combined with increased social distancing, delivery companies and delivery drivers, who played crucial role for many businesses through this challenging time are in high demand."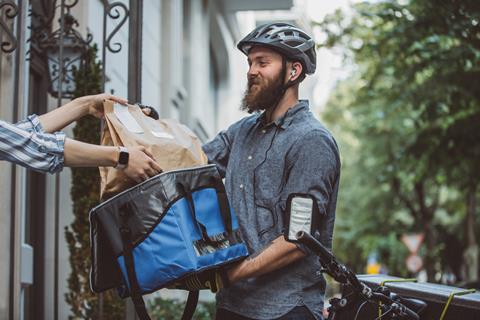 Pret has also accelerated its plans to bring Pret to more people, including serving customers through new channels, recently launching its first retail coffee offering with Amazon, and broadening its delivery and digital footprint in partnership with Deliveroo, Just Eat and Uber Eats.
This could see more opportunities for insurtechs that insure the gig economy. Pret is also planning rent talks to avoid potential store closures.
The sandwich chain recently called in consultants Alvarez & Marsal (A&M) and CWM to renegotiate its rent, as well as to advise on aspects of a comprehensive transformation plan and examine the best options to adjust its business model in the new retail environment.
It will then focus on the cost base of the business, including leasehold pressures with regards to the changed market conditions.
Meanwhile, clothing and accessories retailer Monsoon Accessorize previously threatened landlords with store closures if a waiver on rent was not offered.
Although online sales have risen during lockdown, it is not enough to offset the stores' losses.
Charities have also turned to online shopping and home delivery methods after remaining shut for more than two months, and Pro Bono Economics has shown that the sector is facing a £10.1bn funding shortfall.
Meanwhile, M&S and The Co-op have both turned to Deliveroo to ensure groceries can be delivered and meet consumer demand.
Cutting overheads
Pano Christou, Pret A Manger chief executive, said: "Like the rest of the industry, we have been radically adapting our business model to succeed in the face of the changing market conditions.
Reduced footfall, combined with high rental costs, have placed substantial pressure on our business.
"While Pret may look and feel a bit different in the short term, if we take the right steps today, we'll make sure that Pret can thrive in the future and serve even more customers with great food and coffee."
However businesses could also look to cut overheads, speaking at last month's Insurance Times webinar 'Brokers and coronavirus: what will become the new normal?', Ashwin Mistry, executive chairman at Brokerbility speculated about what might happen to the commercial property market if businesses are paying for office space and not using it.
He said: "The world is going to change, but it's not going to be a dramatic change to how we operated pre-crisis."
Mistry explained that firms will need to revisit their business models and how they interact with customers, they [businesses] are going to be looking at the whole issue of the customer journey and how customers want to interact with [firms]."
Speaking about the situation post-pandemic for businesses, Mistry, added: "People need to understand what we are heading into."
He gave the example of Pret speaking to all its landlords as it cannot pay rent, "they want to survive, they have a good business model, but they cannot afford to pay the rates being charged by landlords," he said.
---
Not subscribed? Become a subscriber and access our premium content