With brokers owning MGAs and insurers owning brokers, how is the industry dealing with potential conflict of interest issues that might arise?
Conflicts of interest have always been a thorny subject in the insurance industry, heightened by the FCA launching market-wide probes and handing out fines to misbehaving firms. The ownership of MGAs by both brokers and insurers has come under particular FCA scrutiny.
So with another MGA selling its broker – this time it is Manchester Underwriting Management's (MUM) recent sale of MGB Insurance Brokers to Trireme Insurance Group – did this influence the thinking behind the sale?
"I don't see any issues at the moment. Everything can be managed as long as you are sensible about it and ensure there is no harm to the customer"

Branko Bjelobaba, Branko
Other reasons for sale
In this particular case, Charles Manchester, MUM chief executive insists that conflicts of interest did not constitute a significant reason for the sale.
He says "MGB had grown quite a bit over the last five years and had reached a point where it would benefit from being part of a larger organisation. The alternative was to scale-up management, either by recruiting or from within MUM.
"The MGA market is at a tipping point, given the travails at Lloyd's and, all in all, we decided it was a good time to pass on the baton while benefiting from the additional cash on MUM's balance sheet."
He points out that, to obtain permission for the acquisition of MGB in 2013, MUM was required to explain to the FCA how it would manage conflicts of interest, and also had to convince brokers and insurers alike that it would be held at arm's length.
On the wider debate about MGAs owning brokers, Manchester doesn't see any issue with common ownership provided conflicts are managed properly and transparently.
This view is commonly held even among more objective commentators.
Branko Bjelobaba, founder of insurance compliance consultancy Branko, says: "If a broker explains to their client that they are not shopping around then that's fine. It would only be a problem if they are claiming to do a broad market review.
"I don't see any issues at the moment. Everything can be managed as long as you are sensible about it and ensure there is no harm to the customer."
Ashwin Mistry, executive chairman of Brokerbility Holdings and BHIB Insurance Brokers, however, feels strongly about the potential conflicts of interest. But he acknowledges that "99% of people would probably disagree."
Furthermore, Mistry's stance is derived from deep-rooted principles as opposed to being a reaction to concrete events in the market that have proved detrimental to the consumer.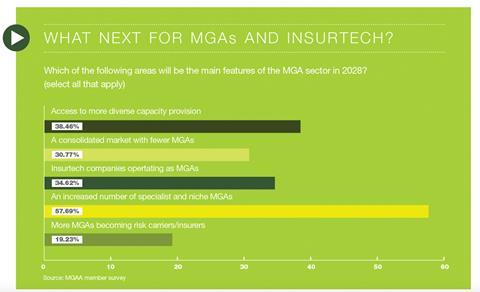 Lack of evidence
The FCA, which fined Bluefin £4m in December 2017 for lack of transparency about its ownership by AXA, has found more issues with brokers being owned by insurers or having their own schemes with insurers than with brokers being owned by MGAs or vice versa.
In that particular case, Bluefin was found to have pressurised staff to sell products backed by AXA.
This resulted in greater commission for Bluefin,
but in one case a customer could have saved
£40,000 if he had been told about an alternative insurer's offering.
Yet as far as MGAs owning brokers is concerned, Bjelobaba can't recall any cases of such relationships having led to regulatory penalties being imposed.
Similarly, Peter Staddon, managing director of the Managing General Agents' Association, says he hasn't come across any instances where such relationships have resulted in consumer detriment. Although its Conduct & Ethics Committee has investigated a couple of cases, they were found to have been largely the result of misinformation.
Getting it right
There is, on the other hand, no shortage of examples of good practice volunteered by brokers and MGAs.
For example, when Touchstone Underwriting was created 11 years ago, Seventeen Group took an early decision to run it as an entirely separate business owned by itself rather than by its broking subsidiary James Hallam.
Touchstone is individually regulated, and has its own board of directors. It also has its own IT platform and controls its data separately from the rest of the group, and James Hallam fully explains the relationship between the two parties when using this market.
Paul Anscombe, Seventeen Group chief executive, says: "Brokers who own an MGA have a duty to consider why they created it, what they will use it for, and how it will benefit clients compared to placements with third party carriers. In that sense it needs to be an arm's length objective assessment.
"I would certainly recommend taking external legal and regulatory advice and ensuring that there are robust procedures in place that are audited on
a regular basis. They also need to consider structure and corporate governance with their clients
in mind."
Ownership model not the issue
Some MGAs and brokers are undoubtedly better than others, and there may well be examples of poor practice that have not yet come to light.
But the consensus view is that the main issue is the need to seriously consider and address conflicts of interest that arise rather than condemn ownership models per se. ν