Insurer will continue to feature on team's shirts and sponsor Community Stand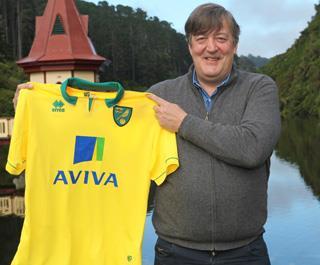 Aviva has signed a new deal with Norwich City Football Club as the main club sponsor for the next four years.
The extended contract will run from July 2012 taking the total length of the insurer's sponsorship up to eight seasons.
As main club sponsor the insurer will continue to feature on the team's shirts and sponsor the Community Stand at Carrow Road.
Norwich City director Stephen Fry said: "We're so thrilled Aviva are with us for another four years. A four years which we hope will see our beloved club consolidate its natural home in the Premier League.
"The new kit fitted me like a…football shirt. I was so pleased to be able to launch it, even while 12,000 miles away. You'd be amazed how many Norwich fans there are in New Zealand."
The Norwich City and Aviva brands have been beamed to millions across the world since the team were promoted to the Barclays Premier League.
Aviva's marketing director Anne Filatotchev said: "We are a business that trades in a global market and to have a partnership with a Premier League football club, where our brand is seen in millions of homes across the world every week, is a great asset to have. We are proud to be continuing this strong relationship for a further four years.
"But this new contract is also about Aviva's heritage and support for local UK communities - Norwich is the headquarters of our General Insurance business and we have around 6,000 staff working in the city, many of whom are Norwich City fans. As part of our sponsorship we have a programme of sport-related activities locally that will also benefit the community here."
Norwich City chief executive David McNally said: "We're delighted to have agreed a new four-year deal with Aviva. This latest commitment to the club makes them the longest main club sponsor in our history, which is fantastic backing.
"Securing a partnership with a major global brand such as Aviva fits perfectly with our own objective of continuing to develop our interaction with overseas fans and businesses.
"The launch of Global Canaries today is another important step for us as it's a perfect way to reach out to our supporters both in Norfolk and around the world. It's an exciting time for us as a club and it's great that Aviva will continue to be part of the amazing journey Norwich City has been on these past few years."