Revenues up thanks to strong performance in commercial
AXA UK & Ireland saw 2017 revenues increase on the back of strong performances in health and commercial lines.
Revenues rose to £4.53bn from £4.39bn in 2016 and the division's combined operating ratio improved to 96.3% from 97.7%. Underlying profit slipped, however, to £245m in 2017 from £263m the previous year, with the decline attributed to the absence of the kind of prior year releases that boosted 2016's earnings.
Commercial lines revenues rose to £1.34bn from £1.26bn, though the commercial lines COR widened to 97.7% from 96.4% partly as a result of the Ogden rate cut, according to Amanda Blanc, group chief executive, AXA UK & Ireland (pictured).
Personal lines revenues were flat at £1.64bn, with the COR improving to 96.3% from 100.4%.
"These are a really strong set of results which reaffirm the benefits of our commitment to a diversified book of business," said Blanc.
Speaking about the issue of escape of water that other insurers have indicated as a problem trend, Blanc said AXA had identified the issue early.
"We saw there was a problem 16 months ago. It's been a worsening trend. It is a case of claims severity increasing, and we have put in place pricing to deal with it," she said.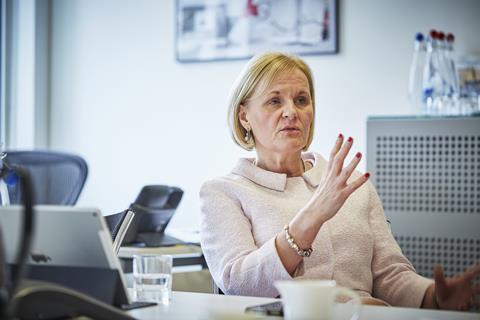 "The industry was subjected to a host of external pressures in 2017, however, these results show that AXA UK & Ireland is a business that can deliver stability and profitable growth within a volatile environment. Much of that is down to a consistency of approach with brokers and customers but also due to a model that accommodates a range of lifestyles, businesses and personal requirements," she said.
She said AXA had grown in commercial lines by continuing to build its SME book, by making further inroads into the mid-market and by launching a new schemes proposition.
"It is clear that our strategy to shift from being a payer of claims to a partner to our customers is the right one and is paying dividends in growth, profitability and market reach. This is supported by our commitment to seek out the best disruptive partners to ensure we satisfy evolving and future customer demand," Blanc said.
Looking to the future, Blanc said AXA remains "vigilant to the external pressures", including the forthcoming Ogden rate reforms, GDPR and Brexit.
"We're in very good shape, but this is not the finishing line. We've still got a lot to do," she said.