UK flood reinsurance scheme to launch in mid-2012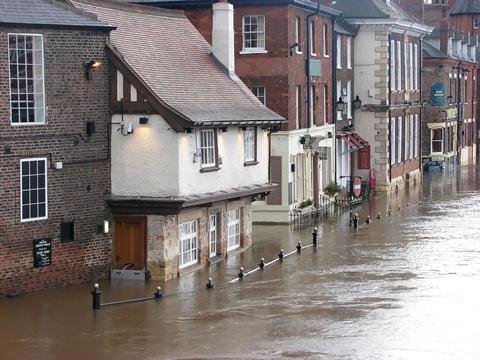 Biba has welcomed Project Noah, a proposal by insurance broker Marsh to create a flood risk reinsurance pool for the UK.
"Project Noah is a deliverable reinsurance solution ensuring flood insurance availability for UK homes," Biba chief executive Eric Galbraith said in a statement. "Government can focus their spending on improving flood defences whilst homeowners should be paying a more equitable premium."
As revealed by Insurance Times in November, Project Noah is designed to help insurance companies continue to provide affordable flood cover in high-risk areas by allowing them to pass some of the risk on to reinsurers through a pooling mechanism. The initiative is scheduled for launch in mid-2012.
The initiative, which Marsh has developed with sister reinsurance broker Guy Carpenter and digital mapping firm Landmark Information Group, uses a flood risk pricing model to calculate the flood risk of every property in the UK. This in turn allows investment in flood defences to be targeted more effectively, Marsh says.
"We have tested Project Noah with some of the UK's largest insurers, as well as leading global reinsurers, who believe that this state-of-the-art model provides an innovative solution to an intractable problem," Marsh UK head of flood risk Hutton Swinglehurst said. "For many years, insurers have been wanting to compete for the business of consumers who would otherwise be attractive were it not for the flood risk to their homes. Project Noah will allow them to do so."
Meanwhile, the Association of British Insurers and the National Flood Forum have published guidance for local authorities on planning in flood risk areas.
The guidance is intended to complement the Government's recently-published National Planning Policy Framework.
It is part of efforts to restrict unwise development in flood-prone areas and ensure homes and businesses can continue to obtain flood insurance.
The guidance contains five key recommendations:
Ensure strong relationships with technical experts on flood risk.
Consider flooding from all sources, taking account of climate change.
Take potential impacts on drainage infrastructure seriously.
Ensure that flood risk is mitigated to acceptable levels for proposed developments.
Make sure local plans take account of all relevant costs and are regularly reviewed.
"It is vital that new developments are insurable and carefully considering flood risk during the planning process is key to achieving this," ABI assistant director of general insurance James Dalton said.
National Flood Forum chief executive Paul Cobbing added: "People rightly feel angry when new developments are built in areas likely to flood and communities despair when they put existing housing at greater flood risk. If it raises their insurance premiums or makes their homes uninsurable too this is plainly unfair. The Government's new planning framework recognises this and this guidance will help decision makers to protect people."