Concerns were raised at the Broker 50 gathering that growing use of data may mean some people cannot get affordable cover. Lack of regulation of CMCs was also a hot topic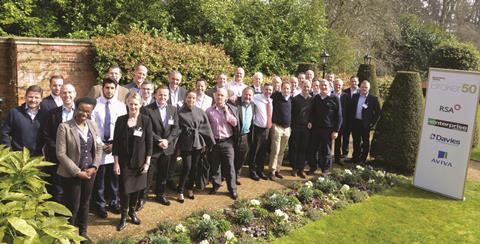 Tank driving in the afternoon and a dinner reception with former MP and Mayor of London Ken Livingstone: along with discussions on the big issues facing the industry, these activities were all in a day's work at Insurance Times's first Broker 50 event of the year.
As the day began, broker chief executives and representatives from RSA, Aviva, Davies and Enterprise Rent-A-Car sat down within the majestic grounds of Tylney Hall in Hampshire to talk about the government's changing attitude towards the industry and changes in mergers and acquisition (M&A) trends.
Insurance Times also gave guests a sneak peek of some of the results from the much-awaited e-trading survey.
This was followed by a half-hour drive to Juniper Leisure grounds for three hours of tank driving and a few rounds of quad biking.
After the entertainment, there was a drinks reception, dinner and an after-dinner speech by Livingstone.
The first presentation of the day covered the government's changing attitude towards insurance, which had become more positive in comparison with banking.
Big Data issues
The Broker 50 guests discussed the rise of Big Data and the implications for the insurance industry.
Concerns were raised that some policyholders, especially those from deprived socio-economic groups, risked being unable to access insurance at an affordable price as insurers became more sophisticated about how they used and accessed data.
This is an issue that is set to be tackled by the insurance industry regulators.
This session came just a week before the FCA announced it would conduct a market study in the year to April 2016 to investigate how insurance companies use Big Data.
It wants to identify potential risks and benefits for consumers, including whether the use of Big Data creates barriers to accessing products or services.
The lack of regulation of claims management companies (CMCs) was another hot topic at Broker 50. CMCs are overseen by the Ministry of Justice (MoJ) but its regulation is not seen as robust enough.
Concern was also raised that the government has been less than forthcoming about its responsibilities in picking up the risk for Flood Re.
Flood Re is not intended to solve flood issues, but rather to be a stop gap, working alongside government investment in flood defence.
Delegates agreed the industry needed to keep the pressure up on the government to maintain flood defences.
M&A growth
The second presentation of the day was an update on M&As over the past 12 years that showed broker businesses at the smaller end of the scale were still largely dominated by privately held companies, despite ongoing consolidation.
In 2014 there was an increase in the number of M&As taking place, particularly involving larger firms. By contrast, the number of deals involving smaller firms fell.
For example, large deals
have seen Arthur J Gallagher grow via acquisitions from a £38.5m brokerage in 2002 to £600m in 2014. Two large buys were Oval and Giles.
This trend of large deals, the brokers heard, has continued into 2015.
One notable acquisition was the merger of Hyperion and RK Harrison.
These acquisitions have all contributed to the dramatic reshaping of the industry. But who are the buyers? Delegates heard that top of the list are those from overseas.
For example, before Gallagher started its buying spree, the US-headquartered firm's UK presence was mainly as a Lloyd's broker.
The number of acquisitions in the UK by other firms headquartered overseas has grown in recent years.
Over the past four years, only one acquisition has been made by a firm without a UK presence, brokers heard.
The second most active buying group are private equity firms. The trend of private equity acquisitions has also accelerated, because not only do they have lots of cash, they are desperately looking for somewhere to spend it.
With the larger firms, the presence of private equity is more evident.
The acquisition activity of UK-quoted firms has been much less than might be expected in another sector because the big three brokers – Aon, Marsh and Willis – are all US-owned.
The London Market has also seen a lot of interest from private equity firms.
Positive outlook
Overall, it was agreed by delegates that there was cause for brokers to feel optimistic.
The government understands the industry better, and while consolidation continues there is enough investment coming into the market to keep the spirit of entrepreneurship alive, delegates heard.