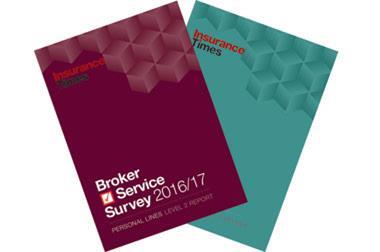 Insurance Times is launching the survey for the 2016/17 Broker Service Survey (BSS), now in its 11th year.
Over the next few weeks, more than 1,000 brokers across the UK will be asked to rank the performance of their insurer partners across a wide spectrum of performance factors.
Their responses will be compiled into the most comprehensive, in-depth analysis of brokers' attitudes towards insurance companies.
Over the past 10 years, the Insurance Times Broker Service Survey has set the agenda for broker-insurer relations: highlighting where brokers feel insurers do well, and turning the spotlight on where insurers fail to match brokers' expectations.
Last year Sterling came top of the BSS for both commercial and personal lines for the second year running.
Sterling is now owned by Covéa, which itself performed well last year as the biggest riser in the commercial lines survey, up seven places to fourth.
Can Covéa stay top?
Now that Covéa has absorbed Sterling, can it capitalise on last year's performances and finish top again this year?
From 6 June, brokers will begin answering questions on a number of factors, including how easy it is to get hold of someone at an insurer who is authorised to make decisions; underwriting flexibility and expertise; fairness of settlement; speed of settlement; clarity of policy wording; speed of policy delivery; quality of cover and the provision of e-trading options for brokers.
Brokers will also be asked which lines of business they intend to expand into over the next 12 months, and which insurers they will partner with.
Verbatim comments
Statistical analysis of the brokers' responses will be accompanied by verbatim comments from brokers about the performance of their insurer partners.
For brokers, the survey shows which insurers are viewed as the best business partners, while insurers can get a detailed picture of how the broker community view their performance, and identify opportunities for improvement and expansion.
We will publish the BSS Commercial Lines and the BSS Personal Lines reports separately.
Each will be available in three levels of insight.
Level One will provide all the headline tables showing broker rankings of insurer performance across all the service factors, as well as broker responses to all the questions about issues affecting the insurance industry today.
Level Two adds further insight through verbatim comments from brokers about the performance of their insurer partners.
Level Three incorporates all of Level One and Level Two, and adds further insight into broker expectations and future plans.
Click here for more information about the BSS.