Bus inspector and Mercedes driver orchestrated crash on Manchester B-road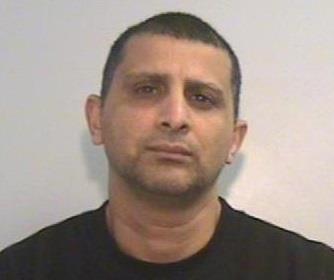 A bus inspector and a Mercedes driver have been sentenced for trying to defraud QBE of £500,000 in a crash-for-cash scam.
The City of London Police's Insurance Fraud Enforcement Department (IFED) said Asan Akram (pictured) and Tariq Iqbal orchestrated a crash between a double decker bus and Iqbal's Mercedes on a Manchester B-road in February 2011.
Akram was jailed for 16 months while Iqbal was handed a 12 month prison term suspended for two years and ordered to undertake 250 hours unpaid work when they appeared at Manchester Crown Court today.
QBE, which insured the Finglands bus, referred suspicions about 29 claims it received after the collision to IFED in January 2012.
QBE's solicitor, DAC Beachcroft, gave IFED CCTV footage taken from the route 42 bus on the night of the crash. The bus is seen travelling along Wilmslow Road when Iqbal's Mercedes performs an emergency stop, causing the bus to slam into the back of it.
Following IFED's investigation, Iqbal was arrested at his home on St Ann's Road in Cheadle in June 2012 and, after more than a year of searching, Akram was picked up at his new workplace in December 2013.
Akram, of Ringwood Avenue in Manchester, and Iqbal admitted conspiring to defraud QBE at Manchester Crown Court in October 2014.
'Fraud on a massive scale'
City of London Police Detective Constable Mark Reynolds, who led the IFED investigation, said: "This was a long-running and complex investigation which has ultimately proved that Akram and Iqbal meticulously planned to commit insurance fraud on a massive scale.
"The fact that their attempted scam put lives at risk by causing a crash with a packed double-decker bus on a busy road at night was inconsequential to them. They wanted half a million pounds from an insurer and were prepared to go to any length to get it.
"But what both men did not reckon on was IFED and the insurance industry working together to identify and track down criminals and have them brought to justice."
QBE claims director Dominic Clayden said: "This is a great result after a complex investigation with officers at IFED. The targeting of public service vehicles to obtain money through personal injury compensation claims is becoming more and more apparent.
"QBE is committed to identifying and pursuing fraudulent claims that are made against our clients.
"We believe this case and the sentences handed down will send a stark message that there are severe penalties for those who attempt to fraudulently make claims at the expense of our policyholders and the insurance sector in general."
DAC Beachcroft claims validation team head Lorraine Carolan added: "This was a highly organised, complex fraud which has required close collaboration between DAC Beachcroft, QBE, Finglands and IFED for over three years to secure convictions in this case.
"I am delighted that our lawyers and Intelligence Team have been able to work in partnership with QBE, utilising our unique intelligence services skill set to successfully tackle this fraud."