While the standard has increased, the industry is still vying with the banking sector to attract top candidates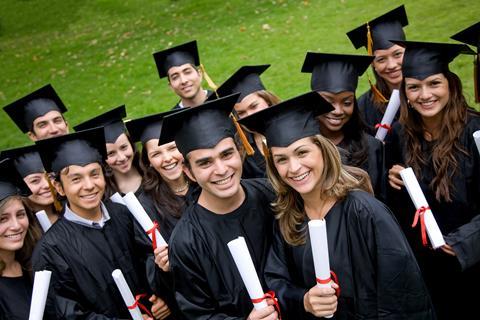 Is insurance the new rock 'n' roll for UK graduates? Probably not. But right now the sector is definitely attracting more than its share of top university students.
Willis human resources manager Josie Mula says: "Graduate interest in an insurance broking career is definitely growing." The firm has trebled the intake on its graduate training scheme over the last three years after a surge in applications.
Things looking up
And it's not just the big firms. Regional brokers, beyond the bright lights of the City, are also attracting the interest of university leavers.
Against a backdrop of rising student debt and an uncertain economic outlook, graduates are looking to start reasonably well-paid jobs with a career structure sooner rather than later, and brokers report increased applications for both bespoke graduate schemes and other positions.
Meanwhile, the continuing impact of the economic crisis, which affected how brokers managed their staff, is starting to ease, which could lead to increased job mobility in the sector among established talent.
In terms of graduates, it appears the insurance industry has never had it so good. The expectation that brokers would benefit from public animosity to investment banks when it came to recruiting high-flying graduates has not materialised, but most firms report to be oversubscribed for both graduate training schemes and standard entry-level positions.
Reassuringly for the sector, and unlike many other employers, insurance businesses insist the quality of graduates is better than ever.
Aon graduate programme manager Julie Hyett says: "The quality of applicants has really risen over the last few years, right across the board. But we've had to become a lot more sophisticated with our offerings to attract graduates into the industry, because we are still competing with investment banks."
It's a view echoed by Bluefin HR director Andy Parsons. "It is easier to recruit graduates because there are fewer opportunities at the blue chips these days. But the cream-of-the-crop graduates are as hard to recruit as ever. They still want to work for those blue chip consultants and finance companies," he says.
Even regional businesses, which often struggle to recruit graduates, are getting more applicants than they have places for, also apparently because of rising university costs.
Parsons says: "We have 40 offices across the UK and we're finding that many graduates are happy to go home to their parents after university and work locally in a smaller office because they're in a lot of debt."
Apprenticeships
More brokers are also investing in apprenticeship schemes, aimed at A-level students who opt for employment rather than running up large debts in full-time study.
Aon's recently established apprenticeship scheme attracted 200 applications for 12 places. Hyett says: "We introduced the scheme in response to the government's policy on tuition fees. It's for A-level calibre school leavers and ultimately these recruits could have a degree within three to four years working with us."
Parsons adds: "I think employers will increasingly look at apprenticeships; the government supports this route, which is good in hard economic times. As a business, you tend to get good staff retention when you have these programmes."
In terms of the current market for established broking talent, the picture is mixed. Many firms have put pay reviews on hold, or cut jobs. This usually means those left behind have to do more for the same salary.
The recession meant disgruntled staff had to grin and bear all this, but that could be changing. Several brokers say the battle for established talent in the industry is hotting up as firms seek to get good calibre people in place for the economic upturn.
But with the outlook still poor, firms may find it hard to entice talent away from secure employment.
Market views
Is the insurance recruitment market tight or loose?
"Top people are still hard to find"
"We have doubled in size in the last 18 months; some roles have been easier to fill than others. But right now we're not having any trouble trying to recruit. It's a loose market in that there are quite a lot of people looking for jobs. But it's getting the best people - that is where the insurance market is tight. People currently on the job market might not necessarily be the ones you are looking for. People with rare skill sets are always marketable. If the company they're working for isn't providing those people with career progression or the financial rewards they want, then they will look around and move. But it's always difficult to find the best people. We're constantly recruiting but we haven't noticed any change in that." Amanda Menahem, human resources director, Hastings Direct
"Our reputation widens the pool"
"Attracting established talent has always been an issue in the industry and there's always been a tight talent pool in insurance. But we have a great reputation in the market and that helps widen the pool for us. There's a lot of unemployment right now, but when it comes to the calibre of person we look for, there really isn't that big a pool. We also spend a lot of time developing our brokers, and often it's difficult for us to find that calibre at a competitor. So the current high unemployment rate hasn't made a big difference - it is still a pretty tight market at the moment. We're number one in our markets and it's recognised that we invest a lot in talent. We are constantly under attack from competition wanting to recruit from our teams. But a lot of the time people don't want to leave; they know they'll get development and opportunities with Aon." Claire Hollingsworth, UK recruitment manager, Aon
"People feel there is less risk"
"The market is loosening slightly and I'd say that mobility between companies is increasing. This is partly because people are less concerned about their personal finances now than they were a few years ago. During the recession, people didn't want to risk their financial stability by changing jobs, but now that reluctance is less apparent. People feel there is less risk now when deciding whether they want to move companies. But the market isn't what I would call loose, it's just loosening up a little."
"Remuneration still plays a part in all this of course, because some will buy the talent. But we've had people leave for a competitor and return because, even in the current market, they've found that money isn't everything." Andy Parsons, human resources director, Bluefin
Q&A Fiona Andrews, Towergate Insurance
Towergate's group HR head on the broker's approach to attracting and training top talent – and how to keep it
Q: How easy is it to recruit top graduates in the current market?
A: We're able to attract all manner of great graduates across our business into a variety of both operational and project-based roles. We came to the conclusion a few years ago that a graduate scheme in its traditional format didn't complement the complexities of the Towergate model. Our approach therefore is to attract graduates into existing vacancies and give them access to the business school and fast-track high potential programmes, together with a market-leading competency and professional standards framework.
Q: What represents the best investment: apprenticeship schemes or graduate recruitment?
A: They're different. The apprentices programme is firmly focused on our sales and customer management pipeline and the graduate training programme we have in place is very much tailored by local colleges to Towergate's business agenda. This works well - we can shape the knowledge and skill of young people before they have acquired bad habits elsewhere. The graduate internship programme brings in highly capable, talented people to do a range of project-based roles where we are able to offer the opportunity to work within a dynamic organisation and with business managers and leaders across the business. We very often find that they are a great fit for our business and that we are able to provide them with a permanent role.
Q: What is the single biggest issue in terms of retaining talented staff?
A: Having a great career development and learning infrastructure is a good differentiator. Towergate places serious importance on continuing professional development and we have often found that to be the deciding factor for retaining talented individuals.
Q: How do you see the current market?
A: The insurance job market has become quite buoyant over the past 12 months. Despite the economic climate and regular announcements of significant downsizing in the financial services sector, there is little indication that good, qualified and talented people are struggling to seek out roles and opportunities. If anything, we have a shortage of experienced people in the industry and we must continually strive to encourage those coming out of education to try us out.
Talking points …
● Insurance firms report that the volume and quality of graduates are on the rise. How can businesses hone their recruitment strategies to ensure they hire the right candidates?
● Cuts in university funding mean that high calibre A-level students may find an apprenticeship scheme more attractive than taking on large debts to study at university. Are brokers fully capitalising on this?
● With the recruitment market showing renewed buoyancy, how can companies ensure their top talent doesn't get poached by the competition?