In Part 2 of our interview, former Apple ad guru Ken Segall talks about life at the technology giant. Hear more of Segall's business tips at the Insurance Times Innovation and Disruption Conference on 28 April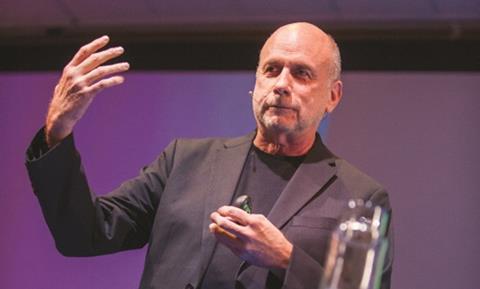 Ken Segall, Steve Jobs's creative director at Apple, will be the keynote speaker at the Insurance Times Innovation and Disruption Conference on 28 April.
In this second part of our interview, Ken reveals his thoughts on Steve Jobs, Apple and the insurance industry.
What was it like to work alongside Steve Jobs for 12 years?
What I really wanted to do after college was play the drums. I did that for eight years and then took a day job at an ad agency. After my interest in technology, I soon found myself working on the IBM computer business and then changed agencies to work on Apple.
But that was during the time when John Sculley was Apple's chief executive and Steve Jobs had just started his new company called NeXT. It was my Apple experience that made me a candidate to work on the NeXT business when it was ready to start selling its first computer and I eagerly accepted that offer. That was where I started my relationship with Steve Jobs.
How did your skills complement his?
Though many people seem to think Steve was a micro-manager, that really wasn't the case. Steve believed it was his job to hire the most talented people and create an environment where they could do the work they were capable of doing.
His way of arriving at great work was to engage in debate, to push and to prod, to sometimes force you to defend your work. I always felt that we worked together well because I aimed to present the agency's best creative effort and Steve would react to that based on his taste, intuition, and where he wanted to take the company strategically.
What were your key highlights of working with Jobs and Apple?
Certainly, the 'Think Different' campaign was a key moment. It's easy to look back now and appreciate how that campaign helped re-establish Apple after a long period of mediocrity.
But at the time we didn't really know if Steve could succeed in reigniting Apple. We were simply helping to lay the foundation for things to come.
The way that campaign was developed and produced so quickly – in a matter of weeks – will always stick with me. It's an example of how passionate people can rise to a challenge, and how an agency and client of like mind can work together to do something great.
A more personal highlight for me was having the chance to name the iMac, which led to all the other i-things that would later become part of Apple's success story. The iMac was the first new product to launch after Steve's return to Apple and the eyes of the world were upon us. So Steve was adamant about every detail being perfect. It wasn't easy getting him to even like the 'i,' but he finally decided it was the right name.
What innovations are catching your eye at the moment?
I'm greatly anticipating the Apple Watch. Not just for the obvious reasons, but because I believe it will spawn a new universe of 'wrist-apps'. The real magic always comes from the world's developers, who amaze us with their abilities to innovate – just as they did with iPhone and iPad.
I'm also a big fan of Apple Pay, but more for the future than the present. It's more than obvious that one day we will finally get rid of our wallets altogether. There's no reason why our phones can't securely contain an e-version of our driver's licences, health care cards, loyalty cards, etc.
What in technology entertainment space do you think we'll see more of over the next five to 10 years?
One of the things I'm most anxious to see is how automotive technology develops. Less than a year ago, I bought a new Audi with the latest and greatest navigation and entertainment technology – and I think the technology is horrible. (It hurts to say that because I'm an Audi fan.)
I am anxious to see cars rise above such bad attempts and embrace Apple's and Google's automotive technology. It's absurd to duplicate all the information that's already stored in our phones and to present it in a way that requires us to learn a completely new interface.
How would you make the insurance industry more exciting and engaging for customers?
The insurance industry provides a critical service, but it doesn't have that fascination factor built in. That doesn't mean you're doomed; it just means you have to find another way to spark interest.
When I look at the major insurance company websites in the US, they all strike me in very much the same way. They're businesslike. They might make it easy to file a claim, or to find information, but I don't get the sense that these companies know who I am, how I live, or what's important to me.
As a rule, human beings feel a connection with companies that share their values. The insurance industry has to find a way to express its values and appeal to those of like minds.
Join the debate at our Insurance Times Tech Forum on LinkedIn