Insurance Fraud Bureau claims 70% of the frauds it investigates have links to organised crime networks
On the surface, they looked like a pair of humdrum household theft claims.
Alarm bells began ringing when investigators discovered that the same credit card had been used to pay the premiums for the two houses, located near Leeds.
And when the loss adjusters from GAB Robins went in to inspect the properties, they found more than they bargained for.
"There were crates full of distilled water and make-up. We realised what was going on," says GAB head of counter fraud and investigation services Neil Daniel. His investigators had stumbled across classic bomb-making ingredients.
Daniel contacted Special Branch, which raided the properties.
Criminal links
This terrorist tip-off is an extreme example of the links between insurance fraud and organised crime. But it illustrates how insurers are inadvertently, but increasingly, bankrolling some of the UK's most dangerous criminals.
Insurance Fraud Bureau director Glen Marr is in no doubt. "Seventy per cent of the frauds we investigate have some links to organised criminal enterprise," he says.
"It's important to recognise that these are hardened criminals who are using the fraud to facilitate other criminal activities. We are dealing with sophisticated organisations."
Solicitor Keoghs director of fraud rings Ruth Needham says insurance fraud represents an attractive and relatively low-risk source of pickings for organised crime. She says: "Fraud rings are an easy way to generate cash."
Cunningham Lindsey complex technical services director Catherine Williams agrees. "It's very much a means of giving criminals a cashflow to enable them to continue to operate in their areas of activity."
Durham Constabulary deputy chief constable Mike Barton leads his forces's long-running Operation Sledgehammer, which is targeting insurance fraud as part of a wider crackdown on organised crime across the county.
"We're not talking about shop lifting; we're talking about links to people importing drugs who don't want to carry large amounts of money around," he says.
Drug dealing is a "debt economy", he explains. Dealers need to make big upfront payments to get their hands on the merchandise; insurance claims provide a useful source of cash for financing such deals.
"With a £5,000 'cash for crash' claim, they can buy a big bag of cocaine, then split it up and multiply that sum 20 times," says Barton, who also leads the organised crime unit for the Association of Chief Police Officers.
A key attraction of insurance claims is that the money is not taxable, so need never attract the attention of HMRC. And while a £1,000 robbery from a shop will make headlines locally, five times as much can be gained from an insurance claim without anybody batting an eyelid, adds Barton.
"It's like a large company doing a health and safety audit," he says. "Criminal enterprises are doing risk assessments on the best ways of earning money."
Marr adds: "Organised criminals will look for the point of least resistance. If they feel insurance fraud is easier than traditional activities, it will become appealing to them."
Once fraud rings are disrupted, fraudsters' roots in hardcore crime become apparent, Barton says. "The fraudsters are forced back into the business they know best – stealing cars or robbery – because we've put the heat on them," he says.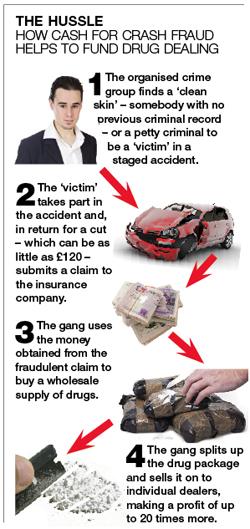 Growing insurance racket
For the kind of criminal enterprises Barton investigates, an insurance fraud racket is just one of the activities they will be involved in.
Needham, who is involved in 40 separate ongoing investigations into insurance scams, says insurance fraud has become a much bigger and more sophisticated activity over the past five or six years.
She says the economic downturn means organised gangs have more foot soldiers. "The pool of people willing to become involved has got much larger, which means the people making the money are making more money. It's often the start of a criminal lifestyle," she says.
'Clean skins' – people with no criminal record – or petty criminals will often be in the car when cash for crash incidents are staged.
"The enterprise is controlled by the organised criminal family and they use the money to buy drugs and so on," says Needham.
Claims manager fraud
The increasingly elaborate infrastructure being developed by the most sophisticated organised fraudsters includes claims management companies that can then be used to generate referral fees from solicitors.
Marr is anxious not to tar all claims management companies with the same criminal brush – the bureau gets good leads from such firms, he stresses. But he adds: "Some hardcore criminals are going into the claims management world."
A senior police source backs this up. "A significant proportion of the accident management companies we have looked at have a close family member in an organised criminal family."
Legal network
ACPO is sufficiently concerned about the issue that it is working with the Ministry of Justice on measures to rescind the licences of accident
management companies strongly suspected by the police of having links with criminals.
With leads like these it's not surprising the police have been displaying an increased interest in insurance fraud in recent years.
"Insurance fraud allows them to get close to the people they've had long-term difficulties getting close to," says Needham.
Marr says that police forces, with the help of information gathered by the IFB, are having increasing success in prosecuting organised insurance frauds.
But the cutbacks to police budgets means it is becoming increasingly hard for forces to justify the level of resources needed for the surveillance teams that carry out long-term fraud investigations.
But Cunningham Lindsey's Williams says cutbacks in this area are a false economy: She says: "They are not just 'nice to have'; they are an essential resource."
Operation Sledgehammer
Forty eight and rising: that's the number of people charged so far in connection with an insurance conspiracy investigation in north-east England.
And with more to come, Durham Constabulary deputy chief constable Mike Barton says the resulting trial could put a record number in the dock for a UK criminal trial.
It's the result of Operation Sledgehammer, Durham's long-running crackdown on organised crime, centred on the Derwentside towns of Consett and Stanley.
In one of the most complex 'cash for crash' investigations to date, offences include fraudulent claims against insurers for recovery, repair, disposal or replacement of vehicles damaged in crashes, plus associated car hire costs.
The conspiracy is alleged to have covered more than 300 accidents, averaging £14,000 a claim and resulting in losses of more than £4m to insurers.
Police say that despite detected fraud in the area being at national levels, increases in motor premiums have been well in excess of the national average. And some drivers have struggled to find any cover.