Gallagher also involved in US tax probe into captive set up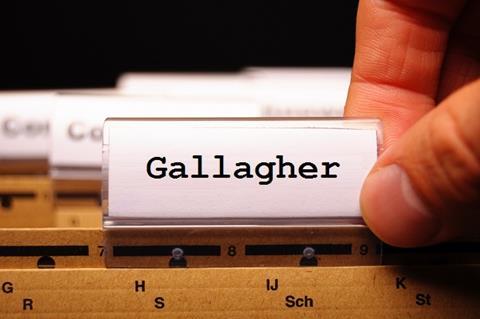 KPMG will examine Gallagher International's risk and control framework as part of the FCA's investigation into the broker, Insurance Times has learnt.
KPMG will specifically focus on the UK regulated entities, Gallagher's quarterly regulatory filings reveal.
The consultancy firm has been parachuted in to undertake a Skilled Person Review, under section 166 of the Financial Services and Markets Act 2000.
Back in May Insurance Times revealed that the FCA was planning a Section 166 investigation into Gallagher.
Gallagher does not expect the impact to be financially significant, although it has not ruled out fines.
The FCA probe caps a tumultuous year for Gallagher International in which its top executive team – including chief executive David Ross, finance chief Mark Mugge, retail boss Janice Deakin, underwriting head Adrian Brown, and risk chief Sarah Dalgarno – jumped ship to join rival consolidator Towergate.
Gallagher is suing Ross and Mugge for ruining its acquisitions' pipeline and breaching contract by poaching staff, something they both vehemently deny. Ross and Mugge have launched a counter-claim for harassment. A trial date is pencilled in for February.
US tax investigation
In a separate development, the regulatory filings also update on a US tax investigation into Gallagher's micro-captive advisory. The US-based Internal Revenue Service leads the investigation.
Gallagher said: "Additionally, the IRS has initiated audits for the 2012 tax year of over 100 of the micro-captive insurance companies organized and/or managed by us.
"Among other matters, the IRS is investigating whether we have been acting as a tax shelter promoter in connection with these operations."
If Gallagher falls foul of tax regulations, it could face monetary claims from the IRS or micro-captive clients, something which could hit its earnings.
"Due to the early stage of the investigation and the fact that the IRS has not made any allegation against us, we are not able to reasonably estimate the amount of any potential loss in connection with this investigation," Gallagher reports.