Reinsurer Swiss Re said Hurricanes Harvey, Irma and Maria had resulted in combined insured losses of $92bn, equal to 0.5% of US GDP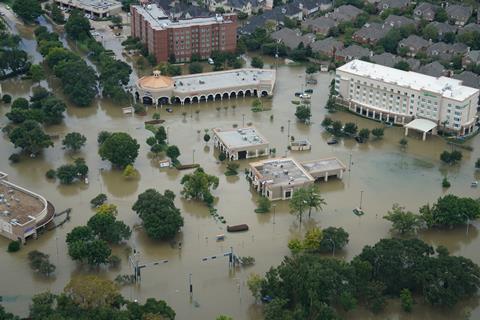 Last year's natural catastrophe activity set a record for the highest insured losses ever at $144bn, according to Swiss Re's latest Sigma study.
American weather events led the loss sheet.
Hurricanes Harvey (pictured), Irma and Maria (HIM) together resulted in insured losses of some $92bn to the US and Caribbean.
Last year's natural catastrophe activity set a record for the highest insured losses ever at $144bn, according to Europan reinsurer Swiss Re's latest Sigma study.
HIM's toll was equal to 0.5% of the entire US GDP last year, Swiss Re said, making 2017 the second costliest North Atlantic hurricane season since 2005 – the year of Katrina.
The economic cost of the three hurricanes taken together was estimated at $217bn by Swiss Re.
Harvey and Irma each cost the insurance sector some $30bn, Maria added on $32bn, giving the $92bn combined HIM bill.
"After 12 years of no major hurricane making US landfall, 2017 is likely to go down as one of the most expensive North Atlantic hurricane seasons in history, in terms of both economic and insured losses," said Martin Bertogg, Swiss Re's head of catastrophe perils.
Global economic losses from natural disasters and man-made catastrophes were reached $337bn in 2017, the reinsurer reported.
Continuing the reinsurer's "protection gap" narrative, Swiss Re noted a "worldwide catastrophe protection gap of $193bn" between the insured and economic loss figures.
The economic cost of big disaster events was almost double 2016's figure, and the second highest on record.
The reinsurer also tallied the human cost of 2017's disastrous events.
More than 11,000 people lost their lives or went missing in disaster events last year, with 8,000 of those falling victim to natural catastrophes.
A landslide and floods in Sierra Leone in mid-August took most lives, with 1,141 people declared dead or missing, Swiss Re reported.
Elsewhere, heavy monsoon rains and separate flood events led to more than 1,000 deaths across India, Nepal and Bangladesh, the reinsurer added.
Asia's biggest economic loss to natural catastrophe was in China, but low insurance penetration muted insured losses.
"Elsewhere, in China heavy rains caused the Yangtze River to flood, with pluvial and river flooding across 11 provinces inundating more than over 400,000 homes," Swiss Re reported.
"The economic losses were estimated to be $6bn, making it the costliest loss disaster event in 2017 in Asia," the reinsurer continued.
Wildfires reached another insurance loss record, costing the sector $14bn in claims costs in 2017, the highest ever in a single year, according to Swiss Re.
In October and December 2017, separate wildfire outbreaks led to record losses of $13bn across northern and southern California.
The Tubbs fire in the Sonoma and Napa counties caused $7.7bn in insured losses, making it the world's costliest wildfire ever in terms of insured losses, Swiss Re noted.
There were also major wildfires in Europe and Canada last year.
"In Portugal, high temperatures and strong winds provided the fuel for uncontrollable forest fires. The number of hectares burned from the beginning of the year through to the end October was 53 times more than the annual average of the previous 10 years," the Sigma study.