Allianz will send out invitations to LV= commercial lines brokers on Monday
Allianz UK will on Monday begin issuing invitations to brokers to take their commercial lines business from LV= to Allianz.
Allianz has created new relationships with 167 new brokers as part of the strategic partnership between LV= and Allianz, with business scheduled to be effective by 20 September.
The announcement was made alongside the news that profits were up 17.5% for the half-way point of the year.
Figures showed an operating profit for the half-year point at £87.8m, with COR also improving from 96.5% in 2017 to 94.8%.
Combined operating ratio (COR) on commercial lines was down from 92.8% to 94.3%, which chief executive Jon Dye blamed on the adverse weather conditions.
But with commercial lines revenues up to £589m from £561m before any transfer of business from LV=, Dye said he was pleased with the results.
He added: "The commercial book has grown organically, which reflects the quality and breadth of the products available to brokers.
"We believe brokers appreciate that Allianz is a trusted safe haven for their customers' insurance needs and are placing more business with us during these uncertain political and economic times.
"The transfer of the commercial lines portfolio from LV= is an exciting prospect.
"It will increase the size of the book and provide the opportunity to broaden our underwriting footprint and knowledge."
Allianz UK 2018 H1 results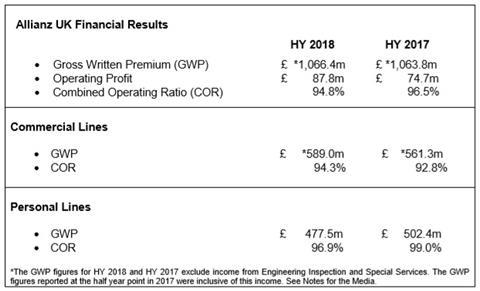 Allianz has this year been in the process of transferring its personal lines products to LV=.
By the end of the transfer process, almost 600,000 policy details will have been exchanged between Allianz LV=.
But in spite of this, personal lines business only fell from £502.4m to £477.5m, with COR improving to 96.9% to 99%.
Dye added: "As we have prepared for and begun to execute the business transfer as part of the joint venture, the personal lines GWP has reduced by 5% and this trend will continue.
"The COR is 2.1% lower than at the same point in 2017 which is a positive outcome.
"Petplan continues to deliver a good set of growth and profit numbers.
"The customer base has grown by 3% over the last 12 months and the business currently insures 1.3m pets which shows this market leader continues to offer great appeal to the UK's pet owners."
Subscribers read more
Allianz LV tie up is bad news for rivals – analyst