The insurtech's head of product believes the partnership provides reassurance to customers as 'travel is still on a path to recovery' following the Covid-19 pandemic
CCP Group-owned Irish insurtech Blink Parametric has partnered with Canadian travel insurance MGA AwayCare to provide real-time flight disruption cover for Canadian travellers.
The insurance will be underwritten by Canadian insurance group Northbridge Financial Corporation.
Richard Lucker, Blink's head of product, said: "This is an exciting launch for us. Travel is still on a recovery path after a very challenging two years and now, more than ever, the travel experience needs to be reinforced with support that builds traveller confidence.
"AwayCare specialises in the delivery of unique, customised services and products for clients across its portfolio, so our Blink flight disruption solution is a perfect fit."
The partnership resulted from a collaboration between AwayCare, Blink and Red Consulting, a travel insurance and medical assistance consulting company that has led the expansion of Blink's products throughout Canada and the United States.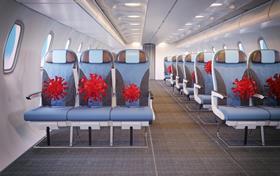 Adding value
Blink was founded in 2016 and participated in Lloyd's Lab's fifth cohort. It currently partners with insurers and travel organisations throughout Europe, Asia, North America and Central and Latin America.
The insurtech's parametric product strives to ease the pain points caused by flight delays in real-time for leisure and business travellers.
Once a traveller registers their flight details, Blink can monitor that flight in real-time. Any flight delay that occurs to the registered flight automatically results in a traveller being notified and offered service choices, as well as an automated claims process.
Ryan Beaulieu, AwayCare's vice-president of operations, said: "Changing the future of travel insurance is fundamental to what we do and adding real value through smart, simple insurtech aligns perfectly with our one-stop-shop travel insurance service.
"We are inspired by customer care solutions that transform the traveller experience and our partnership with Blink upholds our firm commitment to delivering service excellence."
AwayCare's policyholder benefits include complimentary airport lounge access when the insured's flight is delayed by more than two hours, or an instant payment that is issued to the traveller's smartphone.
Gary Andrews, Red Consulting's president, added: "Parametric insurance and digital solutions in travel are increasingly becoming the new normal, providing a genuine real-time service for travellers and delivering solutions precisely when needed. It's a pleasure to work alongside Beaulieu, his team and the Blink team to achieve a new successful launch."