The pair share a similar ethos around 'intuitive, simple insurance product design'
CPP owned-Blink Parametric has entered a partnership with a global travel insurtech Baoba.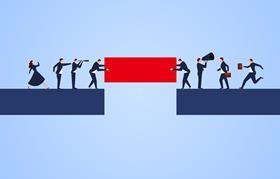 Blink Parametric's flight delay solution will soon be followed by flight cancellation, hotel disruption, lost luggage and weather guarantees with the Baoba team providing clients with consumer-centric insurance solutions.
Baoba has offices in the US, Canada and Hungary. It serves as a B2B marketplace for travel sector organisations with innovative solutions for customers including online travel agents (OTAs), travel insurance companies and airlines.
Sid Mouncey, Blink Parametric's chief executive said: "With Baoba, from the outset we knew we were a natural fit. As two dynamic insurtechs determined to influence the future of insurance with novel solutions – this is a great match.
"We are excited by the benefits we can bring to the insurance value chain and to the entire customer experience for Baoba's client base.
"Our shared ethos regarding intuitive, simple, insurance product design and delivery signals a lively and productive partnership and we are excited to get underway."
Sweet spot
Kata Ludvig, chief executive and co-founder at Baoba, said: "Today represents another important milestone for Baoba. Blink is enabling us to further expand our client portfolios with travel insurances that are street-smart, automated, modular, on-demand, value-add and supported by claim processing and real-time pay-out solutions.
"This is our sweet spot – where world-class insurtech and inspiring customer experiences converge. Right now, our partners can link to us with a single API [application processing interface] to embed parametric products, sell standalone products or upsell during their customer journey.
"Following our successful integration of Blink's platform, we are now well underway to transitioning multiple partners towards the launch of their own parametric products. This is game changing for our business and we are truly excited by the potential that lies ahead."
Founded in 2016, Blink is a Parametric as a Service (PaaS) insurtech focused on a flight disruption travel insurance solution to prove its parametric platform.
Benefits can include complimentary airport lounge access, hotel rebooking options and instant payment when the insured's flight is delayed, all done seamlessly through the traveller's smartphone.
Its solution enables companies to communicate with customers in real-time, offering alerts, status updates, service benefit options and, importantly, compensation.
Blink Parametric was launched in 2020, offering a full suite of parametric insurance solutions.
Carl Carter, chief commercial officer at Blink Parametric added: "Blink's travel solution and parametric suite of products are designed to deliver the sparkling performance and operational efficiency sought by Baoba on processing high frequency, low severity claims when the policyholder needs immediate real-time claim resolution.
"We are delighted to be partnering with such a high-energy business – I have full confidence that our collaboration will deliver exceptional results."