Existing partnership moves to 'the next level' as part of 'wider company growth strategy'
Sunderland-based travel insurer Just Travel Cover has bought travel scheme focused business Alpha Underwriting from insurtech CPP Secure – the parent company of travel and cyber parametric insurance firm Blink Parametric.
The acquisition aims to build on Just Travel Cover and CPP Secure's existing partnership – the firms initially joined forces in August 2021 to launch a parametric lost luggage insurance product, called Smart Luggage.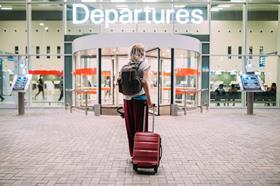 Smart Luggage enables policyholders to automatically claim £50 if their checked in luggage is delayed, or insureds can receive a £500 payout if their luggage is lost because an airline or airport mishandled policyholders' suitcases or bags.
The acquisition is additionally designed to help Just Travel Cover expand its broker network, while also enabling Alpha Underwriting's broker customers to access new travel insurance products.
Following the transaction, the firms' hope that brokers will be able to better compare travel insurance schemes too, through the use of Just Travel Cover's portal.
The insurer's portal currently provides back office access, a branded B2C web engine, GDPR compliant customer accounts system and a document centre, as well as access to Smart Luggage.
'Next level' growth strategy
Speaking on the deal, Daley Gore, director at Just Travel Cover, said: "This is an exciting acquisition for Just Travel Cover as we continue to grow our wholesale division as part of our wider company growth strategy.
"We're looking forward to welcoming new brokers on board and providing access to our suite of travel insurance products - just in time for the post-Covid travel boom.
"The acquisition presents a great opportunity to help these brokers grow too, with full training and support on our portal."
Carl Carter, chief executive of CPP Secure and chief commercial officer of Blink Parametric, added: "We are delighted to take our strategic partnership with Just Travel Cover to the next level, following the success of the development and launch of our award-winning parametric lost luggage travel insurance and real-time assistance product.
"This deal will see Just Travel Cover gain the capability to deliver this innovative and valuable solution to a large group of brokers at the flick of a switch, [as well as] offer those who have existing access to the portal access to a wider variety of travel insurance products that Just Travel Cover provides."
Just Travel Cover is aiming to novate all Alpha Underwriting's brokers by 15 August 2022. It will deliver training on its portal to brokers this summer.