More Than is ready to work alongside the ABI and government to further understand options for a legislative framework around e-scooters
The rules regarding e-scooters must be made clearer if insurers are to build suitable policies ahead of future legislation.
Research published last week from insurer More Than, a subsidiary of RSA, revealed that 40% of Brits are feeling more anxious as a result of seeing increasing numbers of e-scooters being used on the road, while 56% of Brits agree that e-scooters are making roads more dangerous.
The research survey, conducted by Censuswide, polled 2,024 general respondents in the UK between 4 and 6 August 2021.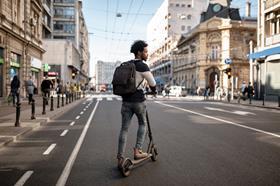 Nick Kitchen, More Than's personal lines underwriting director, said: "We're ready to work alongside the ABI and government to understand the options for the legislative framework around e-scooters.
"Once we know what these rules will look like, the industry can start to consider designing appropriate insurance solutions that will meet the needs of owners and riders in the future."
Need for clearer regulation
Although More Than sees the benefits of e-scooters as a convenient and eco-friendly way to travel shorter distances, the insurer stressed that it is crucial that they are still used safely and within the law to avoid putting riders and other road users at risk of injury.
Its research also found that only 28% of respondents agree that there is enough information available on how to ride an e-scooter safely.
In the UK, over 30 areas - including London, Newcastle, Nottingham and York - are operating e-scooter rental schemes to help people get around.
Currently, only e-scooters ridden through these government-backed trials can be used on public roads (except motorways), while the use of private e-scooters on public roads, cycle lanes or pavements could incur a fine, penalty points or confiscation.
Kitchen added: "E-scooters certainly have potential benefits, offering a convenient and eco-friendly way to get around for shorter journeys, while easing congestion on the road. However, it's crucial that they're used safely and within the law to avoid putting riders, pedestrians and other road users at risk.
"The government is due to consider the future of e-scooters based on the results of recent trials and we believe there is a need for a clear regulatory and legislative framework to ensure they're used safely."
An ABI spokesperson told Insurance Times: "E-scooters trials are taking place across parts of the UK which insurers support and are closely monitoring the progress. Currently, the use of e-scooters on public roads outside of these trials in most cases remains illegal.
"If micro-mobility devices are to be used on the roads, it is imperative that a robust and data-driven regulatory framework is introduced that allows for safe and legal use. The insurance industry is working closely with the government and other stakeholders to help deliver the right levels of protections for users of e-scooters and other road users should they become legalised in the future."
Greater transparency needed
Despite the current legal stance around e-scooter use, More Than's research found that 83% of Brits have seen e-scooters being ridden on pavements, with 21% of those respondents adding that they've seen this occur 'very often'.
Kitchen continued: "Further clarity is required in areas such as age requirements, power limits, licensing and the mandatory wearing of helmets.
"There also needs to be greater transparency around how people involved in an accident caused by an e-scooter can access compensation for the damages or injury caused."
David Walker, head of leisure and road safety at the Royal Society of the Prevention of Accidents, added: "Scooters are an emerging way to travel, but what is clear is that not everyone understands the rules when purchasing one privately.
"We strongly recommend that consumers should check carefully the limitations around use, especially as they cannot currently be used on the public highway."