The company is aiming to become a world class insurer
Esure has today announced four key appointments of 'top talent from market leading organisations' that will help lead the insurer into a new era.
The roles are:
Roy Jubraj as chief strategy & transformation officer
Caroline Smith as chief people officer
Kirsty Whitehead as general counsel
Na Zhou as interim chief data officer
Chief executive David McMillan said: "We are making good progress in our journey to become a world class insurer. I am delighted that we have attracted top talent from market leading organisations.
"The breadth of their combined experience and expertise will strengthen our capabilities in digital innovation, data science and transformation.
"I look forward to welcoming Roy, Caroline, Kirsty and Na to the team at such a transformational time for the group."
Roles explained
In his role as chief strategy & transformation director, Jubraj will be working alongside the group executive team to develop the company's strategy in line with its ambition to be at the forefront of the digital disruption of the UK insurance market.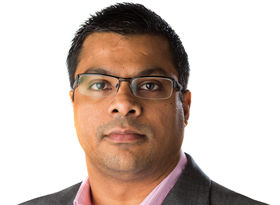 Roy Jubraj, who previously led Accenture's UK and Ireland strategy, has advised numerous insurers on customer service propositions
Jubraj previously led Accenture's UK and Ireland Insurance strategy practice and has been one of the key architects of Accenture's cross-sector Innovation, transformation and digital agenda.
He has extensive experience working with financial service companies to drive new customer propositions and develop new IT platforms.
Caroline Smith will join esure in January as chief people officer to lead the human resources function, developing and implementing a company-wide people strategy as well as working alongside the group executive team to create an organisation and workplace culture that supports the business strategy.
Smith was previously responsible for the people strategy and the set-up of a new transformation division at Lloyds Bank.
Prior to this, Smith held a variety of critical human resources leadership and change management roles in the Pearson group, BT, Pepsico and Accenture.
She has extensive experience in enabling organisations to build the right structure, culture and capabilities to support digitalisation, esure said today.
In her role as general counsel, Whitehead will be responsible for leading the legal and company secretarial functions. Her appointment will be effective from January 2020.
She was previously general counsel for Worldpay UK where she led the legal team in a fast-changing and heavily regulated environment.
Previously she worked in senior legal roles for Visa, Thomson Reuters and initially as a practicing lawyer at Freshfields Bruckhaus Deringer.
Zhou joins as interim chief data officer where she will define esure's data-driven strategy and implementation plan, strengthen governance surrounding data and help build new capabilities in this area including data engineering, analytics and data science.
Zhou will be seconded to work for esure in her role as a principal in Oliver Wyman's digital, technology and analytics aonsulting practice.
She has many years' experience providing consulting services to the Financial Services industry, most recently she worked with Royal Bank of Scotland as the founding chief analytics officer to launch Bó, the digital challenger bank.