The annual Insurance Times etrading survey is now open to brokers
Insurance Times has launched the annual etrading Survey – now in its 5th year.
Insurance Times invites the broking community to share their experiences using the leading insurer extranet platforms and software house systems anonymously.
As each year passes more products, services and innovations are being implemented on insurer extranet platforms and software houses, it is now the standard way of doing business for a great deal of brokers nationwide.
In 2018, nearly 800 brokers took part in the survey and voted for their leading insurer extranet, leading software house and leading insurer via software house system and much more. To take a look at some of the insights and winners from the 2018 etrading report please click here.
Brokers use the Insurance Times etrading survey to voice their opinions regarding the insurer platforms they have frequently used over the last 12 months of trading activity in addition to providing granular feedback on the broker management system their brokerage has implemented.
And it was apparent from last year's survey that brokers were satisfied with etrading, however they seeked improvement in many areas such as user navigation, documentation, renewals, data enrichment, the referral process, re-keying and much more as seen below.
The real question is have insurers and software houses been listening to brokers?

Take a look back at a selection of comments made by some of the 800 brokers that contributed:
Can you guess which insurer or software house is being discussed?
"I find the system and the referral process incredibly slow. The premium flexibility is non-existent which deters me from using their system. I also am not confident in the referral team behind the system."
"Service - the system is fairly simple however, I feel that you don't always get through to someone who can help on the risk".
"It would be helpful to have the ability to go back into the quote to re-quote if additional information is received instead of re-keying."
"Being able to use the system with portable devices (tablets etc)".
"Contact information, if web chat is too busy you have no one to help assist and referrals can be lengthy."
"Getting quote documents is very long-winded. Too many questions are asked. The renewal system is just dreadful which makes me reluctant to put new business through the system."
"It is overly complicated and they seem incapable of communicating in plain English. Every update communication is full of jargon and things that might be of benefit are unknown as a result."
"Price. Too often they are well adrift by more than 200% and over against the cheapest."
Brokers predominantly using insurer extranet platforms will analyse the following factors: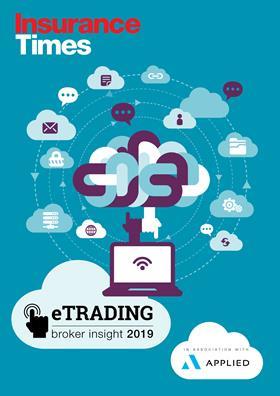 Breadth of cover and product range
Quality of questions asked
Ease of navigation
Referral process and expertise
Price competitiveness
Brokers who have a broker management system are encouraged to analyse the following factors:
Customer management tools
Software innovation
System security
Trading and navigation ease
Data analytics and reporting
The etrading survey is now open and will close at midnight on the 12th of April.
All brokers that complete the survey will receive an exclusive Insurance Times etrading summary report and be entered to win tickets to Insurance 2025.
To take part in the survey please click here or alternatively click the survey logo below.