The wildfires have destroyed 1,298 homes so far and wiped out half a billion animals and plants
As New South Wales and other parts of Australia are ravaged by bushfires, both insurance and reinsurance claims could escalate to over £158m (US$207m).
This is according to analysts at Aon, meanwhile local news sources have speculated that claims could top £318m (AU$600m).
Meanwhile, starting today, a week-long state of emergency has been declared by New South Wales premier Gladys Berejiklian.
BBC News reported that this week the fires have destroyed at least 381 homes in New South Wales and 43 in Victoria, at least 17 people are missing. Deaths have included two people in separate cars, a father and son and a 28-year-old volunteer firefighter.
The New South Wales Rural Fire Service has estimated that 1,298 homes have been destroyed by bushfires, with a further 442 damaged.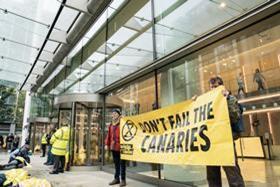 The wildfire crisis began in September last year and has since wiped out almost half a billion animals and plants as well as turning glaciers in New Zealand black.
High temperatures and strong winds have been forecast for the weekend that could lead to the fire spreading, fire officials have warned holiday makers to leave the 260km (160 mile) stretch of New South Wales before Saturday.
It follows the two week-long protests carried out by climate change campaign group, Extinction Rebellion last year in October, it included the group targeting the insurance industry in a bid to raise awareness of the role insurers and reinsurers play in supporting the fossil fuel industry.
Also in October last year protesters cornered reinsurers at the annual Baden Baden meeting in Germany using a house that looked ablaze to draw attention to the issue.
Temperature differences
Australia is one of the world's largest emitters of greenhouse gas. The Australian government has been criticised over its climate policies as the country deals with the effects of the bushfires as they spread across four states.
Meteorologists have pointed to a climate system in the Indian Ocean, known as the dipole, as the reason for the extreme heat in Australia, but many regions have been experiencing drought conditions for quite some time. The Indian Ocean dipole refers to the difference in sea-surface temperatures in opposite parts of the Indian ocean.
It is just one instance of extreme weather that is becoming more frequent due to the effects of climate change.
Subscribers read more
What lessons are to be learnt for extreme weather claims following Whaley Bridge?