However, policyholders that have been asked to self isolate by a medical professional may still be covered
Insurers are beginning to pull income protection insurance due to the ongoing coronavirus pandemic.
Those that are still offering income protection plan to introduce exclusions; this means that should policyholders fall sick with the virus, insurers will not pay out.
Income protection insurance is designed to pay out a regular income if the policyholder can't earn due to an illness or injury - most policies are designed to keep paying out until retirement, or the person is fit enough to work.
In response to this development, price comparison sites have already stopped listing income protection policies, as seen on Compare the Market. Insurance Times has contacted the aggregator for comment.
Under the income protection section, a message on Compare the Market's website said: "Due to the coronavirus outbreak, we are currently unable to offer comparison for unemployment cover, as some of our insurance providers are unable to provide cover. However, we are still able to offer comparison for accident and sickness cover."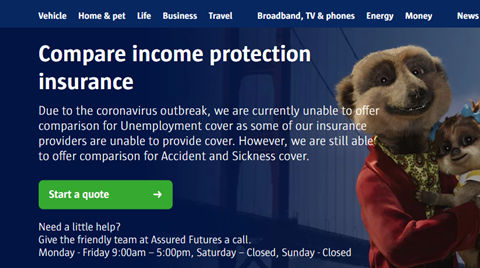 Waiting period
The ABI said in a statement:"Insurers will pay out under the terms of their contracts, but policyholders should be clear on the terms of their coverage.
"Self isolation may be covered for those income protection policyholders where an individual has been advised to do so by a medical professional, and this may also include a fit note through NHS 111.
"Income protection policies, whether provided by an employer to employees or bought by individuals, typically cover short and long-term absence from work due to ill health or injury and have a waiting period before money is paid out.
"Such policies are unlikely to cover people self isolating, as they probably won't be off work longer than the waiting period and may not be too ill to work.
"However, some policies with a short payment term are designed to kick in with either no waiting period or only a period of one week, and so are likely to cover people who are self isolating based on medical advice and are unable to work."
A waiting period on an income protection policy is typically between one and 12 months, often depending on individual circumstances and budget. There are also short-term policies available that provide cover from day one of absence.
"For claims to be paid, the policyholder needs to meet the definition of incapacity - how ill do you need to be before you can claim? Policies will vary and it is important to check with your insurer or adviser. Self isolation which is not medically advised is unlikely to be covered unless symptoms are severe and continue beyond the waiting period," the ABI said.
Subscribers read more
How is coronavirus impacting key business sectors?