'We hope that these sentences will deter would-be fraudsters', says Allianz's head of counter fraud
Two men from Hayes, London have been sentenced to four months' imprisonment following an illegal attempt to grossly exaggerate a minor accident to claim for personal injury and vehicle damage.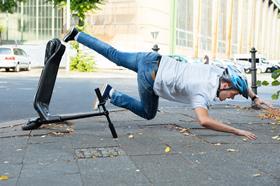 Niaz Mohammadi and Said Raheem were sentenced yesterday (6 June 2022) at the Inner London Crown Court and were both slapped with four months' imprisonment, suspended for 18 months.
Both men were also ordered to pay £1,372 in compensation, court costs and victim surcharge fees.
Mohammadi and Raheem claimed that a van driver had crashed into the rear of their vehicle at a speed between 30 and 40 miles per hour while they were stationary at a zebra crossing.
Allianz – the third party insurer involved in the incident – referred the case to the City of London Police's Insurance Fraud Enforcement Department (IFED) for further investigation when it noticed significant discrepancies between the accounts of its policyholder and the claim of Mohammadi and Raheem.
IFED officers confronted Raheem over his claim that a van had rear-ended him at speed and solicited a confession that Mohammadi had approached him to say he could profit from entering a fraudulent claim. Raheem admitted he had not been in the vehicle at the time of the collision.
The van driver had provided a contradictory account, revealing that he had slowed down on approach to a red traffic light when his foot slipped and he collided with Mohammadi's vehicle at "no more than three miles per hour". He reported that Mohammadi was the only one in the vehicle at the time, supporting Raheem's account of events.
Despite this conflicting account – and images taken by a forensic engineer that showed damage inconsistent with a rear-end collision from the type of van blamed by the fraudsters – Mohammadi upheld his version of events when interviewed by police.
Mohammadi also alleged that the van driver was "unsteady on his feet and appeared to be drunk when he exited the vehicle".
Opportunistic fraudsters
Detective constable Sajida Zaman, from the City of London Police's IFED, said: "Unfortunately, we see far too many cases of opportunistic fraudsters exploiting an honest accident for financial gain.
"Mohammadi took this a step further by making defamatory allegations about the third party driver, claiming that he was driving whilst drunk."
Zaman explained that Mohammadi had maintained his allegations until "the bitter end" and only admitted his guilt when the case reached court.
James Burge, head of counter fraud at Allianz Commercial, added: "Opportunistic fraudsters might think they can lie and exaggerate to gain financially. However, when we spot inconsistencies, it triggers an investigation that will catch them out.
"We hope that these sentences will deter would-be fraudsters."