ERS's claims manager said the case demonstrated 'an act of wilful deception', which is why the insurer felt it 'had no choice but to pursue a criminal prosecution'
Specialist motor insurer ERS has revealed that it has successfully pursued a private prosecution against three fraudsters who made false allegations against its client to secure personal injury damages.
All three individuals, who were employed as taxi drivers in High Wycombe, were successfully convicted of fraud by misrepresentation.
This led to all three parties losing their taxi licences and the claimant receiving an 18-month suspended prison sentence, as well as the two witnesses involved each receiving a community order.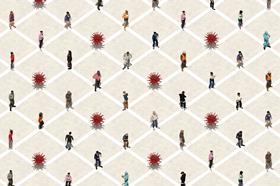 An ERS claims manager, who chose to remain unnamed, said: "ERS has a zero-tolerance for fraud. We do everything we can to detect fraud and discourage fraudulent behaviour by taking tough action against perpetrators."
This case marks the first time an insurer has used the Fraud Act 2006 to secure convictions against both a claimant and the witnesses supporting the claim.
ERS is committed to leading the motor insurance industry to stamp out fraudulent claims, which cost insurers more than £600m annually, it said.
Fraud by misrepresentation
The case in question involved Jawed Iqbal's £63,000 personal injury claim, which alleged that the actions of an ERS client had caused a collision involving his vehicle.
However, ERS's client protested that their vehicle had been parked and unattended at the time of the accident.
The claim included signed witness statements from Muhammad Naheem and Qasim Iqbal, confirming Iqbal's story.
Meanwhile, CCTV analysis showed that this version of events was "demonstrably false", leading Iqbal to withdraw his claim.
ERS's claims manager continued: "Even though Iqbal withdrew his claim when presented with our evidence, we took the decision that his attempt to commit fraud was so serious that we had no choice but to pursue a criminal prosecution.
"Many people think that insurance fraud is a victimless crime, but there are significant knock-on impacts. Fraudulent claims have a mental and financial impact to the other party, they increase insurance premiums for other drivers and decrease the performance of our broker's business.
"In this case, the deception and misrepresentation of events and [the] signing of false witness statements is an act of wilful deception and we hope that this successful prosecution will encourage other insurers to take similar action and protect customers and brokers."
ERS claims this example is one of the first cases where an insurer has successfully secured a conviction against fraudulent witness claims and one of the first times an insurer has secured a production order for the release of a claimant's personal injury file to support the prosecution.