Karen Williams, underwriting development manager at MPR Underwriting, speaks to Insurance Times's Savan Shah on new developments for the broker community, the challenges that lie ahead for MGAs and achieving five stars from brokers in last year's MGA survey

As UK brokers respond to the 2021 MGA Survey, Insurance Times speaks to MGAs on the current and future challenges they face.
Here, Insurance Times speaks to Karen Williams, underwriting development manager at MPR Underwriting.
Brokers are coming forward to rate their MGA partners in the 2021 Insurance Times MGA Survey - what do you feel sets your MGA apart from your competitors?
Access to technical expertise across a range of financial lines products - real people to talk to, who know what they are talking about and can make a decision.
We actively and openly share our knowledge and during unprecedented, difficult trading conditions, we have been agile and responsive in helping our brokers manage solutions for clients in a way that no online trading platform is able to do.
We have now been established for almost five years and in that time, we have secured a position at the heart of the regional financial lines market, securing long-term strategic and cohesive partnerships with all of our stakeholders. MPR has a unique proposition, with no characteristically similar MGAs in our market space.
The 2021 MGA Survey aims to investigate the service levels of MGAs over the last 12 months. How has your MGA adapted to the challenges of the last 12 months?
We do not trade online. Each risk is underwritten by at least one experienced underwriter. In an environment where brokers tell us that it has been difficult to access underwriters, our brand philosophy has provided unrestricted access through our flexible operating model.
MPR underwriters have been equipped to work remotely from day one, so we did not skip a beat when the pandemic struck - remote working became the norm. We have recruited and onboarded staff during the pandemic and continue to invest in efficiencies that deliver behind the scenes, to help us continue to deliver service excellence to our brokers with a human touch.
Why do you feel the underwriting process used at your MGA stands out?
At MPR, the underwriting process is people led. The pandemic and impact it has had, particularly in the financial lines sector, has highlighted deficiencies in technology-based underwriting processes. Brokers are unable to comply with 'statement of fact' led underwriting and risks are failing requirements.
We can explore further, take a view on a risk, understand the story behind the numbers and deliver a solution where many others cannot.
In the MGA Survey, brokers will be expressing their concerns and challenges for the year ahead. What are your concerns and challenges in the year ahead and how do you aim to alleviate these challenges?
We are looking at our distribution strategy carefully and regional independent broker consolidation will be a feature of that. Equally, we are seeing some strong organic growth and newly formed and growing businesses evolve out of that landscape, presenting exciting partnership opportunities for MPR.
Continuing to navigate the impact the pandemic will have on the claims environment and being able to support our brokers in a hard financial lines and cyber market will continue to be strong themes for us.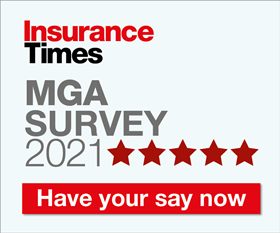 There are concerns around the reduction or removal of capacity from MGAs. Should brokers have this concern while working with your MGA?
This isn't a feature that is unique to MGAs and there is an argument that MGAs are better placed if strategic decisions are made outside of the control of the underwriting framework.
Insurers with key relationships and Lloyd's syndicates have repeatedly been unable to offer terms on risks, leaving brokers and clients without options at renewal, so the question of capacity reduction or removal has simply become part and parcel of the industry at the moment and not uniquely tied to MGAs.
The MGA sector is critical to the success of the industry, generating creative and entrepreneurial solutions that the larger, more institutionalised carriers find difficult to recreate.
All MGAs have their own requirements and challenges when it comes to the availability of capacity. MPR brokers in the main will most likely know who our capacity providers are and that we have long-term strategic relationships and partnerships with them. .
The quality of support provided to brokers was a major factor for why certain insurers performed well, or not, in the Insurance Times Five Star Rating Report: Commercial Lines 2021. What can brokers expect from your MGA when it comes to the quality of support?
Our sector has been impacted by a hard market, which was a very long time coming. The pandemic impact is still undetermined, but the market was radically changing ahead of that. There will undoubtedly be more changes to the appetite, breadth and availability of cover, especially in a one-size-fits-all algorithm underwriting approach.
MPR will continue to be here to help brokers navigate the best options for their clients in the way that we have since we started trading. Brokers that value MPR look for feedback and commentary beyond just the transaction - they seek to form relationships with underwriters they trust. We offer technical and market updates in person or online, alongside articles and thought pieces, sharing our knowledge as well as one-to-one risk-based feedback.
What new developments do you have in store for your broker community across the next 12 months?
More of the same - brokers will see some tweaks to our contracts as we keep abreast of market changes. They might see new faces as we grow the team further - plus, we hope to be out more, engaging with our brokers face-to-face as the pandemic allows. We will continue to update our technical bulletins and incorporate new ways of sharing information as our ask@MPR service takes off.
What was the reaction to the star rating awarded by brokers to your firm last year and what impact did it have on your MGA going forward?
Five years ago, with a blank sheet of paper, managing director Neil McCarthy had a simple ambition to create the leading regional financial lines provider.
We have now established ourselves as a mainstream market player, with a strong brand, a clearly differentiated proposition and a long-term capacity partner relationship.
We set out to provide the clearest and best quality products and associate the brand with excellence. MPR now provides accessible expertise across the whole range of financial lines products, assisting brokers in understanding the potential complexities of some of these covers. We provide access to decision-makers and one-stop solutions in an often complex area of the market that has been hit hard by the pandemic.
It was fantastic to be able to promote the five star rating last year and read the testimonials from brokers that validated what we thought we were delivering and it has emboldened us to do more.