The broker and insurtech aims to support professional indemnity insurance
Insurtech broker Worry+Peace is targeting brokers with its new platform called 'Choices' which also aims to help brokers with Professional Indemnity insurance.
The platform allows brokers, insurers and MGAs to digitalise any proposal forms or fact find process quickly and keep costs low.
It allows for two mutually exclusive use-cases – provider forms and lead forms.
Worry+Peace founder, James York told Insurance Times: "We decided to make Professional Indemnity one of our first forays for our group lead generation forms because it's a market that's proposal-heavy.
"It's also hardening, by all accounts - so any efficiency gains are a must. Given it's connectivity to other commercial lines, it's also a good inflection point to expand scope.
"Plus - we believe that in 2021 there'll be an explosion of new services businesses, so we're positioning in readiness for that. The glass is usually half-full for us!.
"We are working through our strategy to build a genuinely new and original category play and Choices is a key part of that process.
"Rome wasn't built in a day, but we really feel we've finished the range of capabilities we need to emphatically prove that what we've built is a truly capable and helpful platform for providers and buyers."
It follows industry veteran Mark Cliff and Andy Hawkes joining the advisory board.
Jigsaw
Worry+Peace's in-house lead plans will initially look at small commercial or non-standard lines, with the intention of leveraging this range through distribution partnerships already in the pipeline.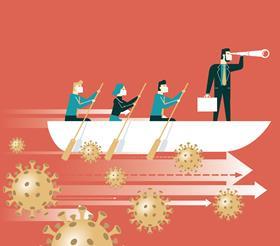 It can also support small clusters of brokers to unlock affinity together as a group, this feature will be unveiled in 2021 late January to early February.
York continued: "This is really a huge jigsaw piece for our strategy because we can also, technically, send the data from these forms anywhere from day one — it defaults to our out of the box tools, but I hope digital progressives spot the Easter Egg of what could be returned by providers who can receive these datasets.
"Our unique product uses an open-source code, JSON Schema, and a custom-made rendering application on our platform. This is all about democratising rapid and open capability to aid healthy competition.
"Anyone could make their own JSON form [JavaScript Object Notation] - they're relatively cheap - and simply submit it to us to 'plug-in' to our rendering engine and processes.
"So, Choices seemed an apt name. Feedback from our early bird demos has been fantastic. I'm looking forward to uptake and creative usage of it."
It can be used for non-core lines or growth areas where a fully e-traded or a live-pricing system would be out of budget.
Worry+Peace has been contacted for further comment.