The second Insurance Times Five Star ratings for commercial lines has just been unveiled, with three insurers being awarded five stars by brokers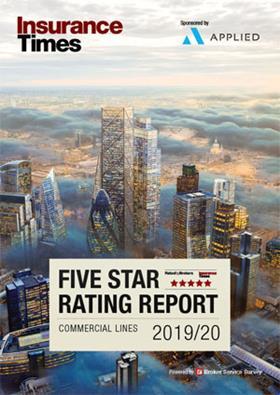 The Insurance Times Five Star Commercial Lines 2019/20 site is now live!
The second Insurance Times Five Star ratings for commercial lines has just been released, with some surprising changes in the rankings.
The Insurance Times Five Star ratings are the first at-a-glance guide to insurer experience, created for brokers by brokers.
The Five Star ratings aim to provide a practical tool for brokers to assess their insurer partners based on the experience of their peers, helping brokers to justify their recommendation to clients and offer a better service to their customers.
The ratings also assist insurers to benchmark their performance against competitors and stand out from the crowd as an exceptional insurer partner, based on reviews by brokers specialising in commercial lines insurance.
Brokers across the UK took part in the Insurance Times commercial lines broker service survey, rating their experience with insurer partners over the last 12 months in the following service areas:
• Claims – Fairness of settlement and speed
• Underwriting – Expertise, flexibility and support
• Quality of cover
• Relationship handling and management
• Policy documentation – Accuracy and transparency
Subscribers can read a summary of the full set of results here.
Non-subscribers please click here.
Or, alternatively, select your insurer partner from the list below.
The following company pages are accessible to all. Brokers can provide insurer feedback throughout the year that insurers can view in real time. Subscribers can find more extensive company analysis by clicking 'see full insurer profile'.
The Insurance Times Five Star Commercial Lines site also includes insight into the star ratings awarded to insurers by broker groups. Insurers work with a range of broker groups and it is important to discover how insurers are perceived by small independent brokers, large independent brokers, top 50 brokers and brokers that are part of a network broker group.
Over the last five years, the commercial lines insurance industry has transformed how it delivers key services to brokers, who have witnessed significant change in the products and service levels provided by insurers.
Have insurers delivered on their promises in key areas such as underwriting – providing the knowledge, expertise and decision-making power that brokers require?
And what about promises of a smooth claims process, easy to understand policy documentation and a partnership where the insurer works determinedly to build a relationship with brokers to understand customer circumstances? In the five-year performance review, we look at whether insurers have delivered on these promises or if they have failed to match broker expectations.
The Insurance Times Commercial Lines Data Insight Book is now available to order, which includes further analysis into broker feedback in areas such as Product reviews, product upgrades, business growth, new business, broker concerns for 2020 and much more – to get your hands on one please email: fivestar@insurancetimes.co.uk