Insurers lost their competitive edge, Guidewire conference told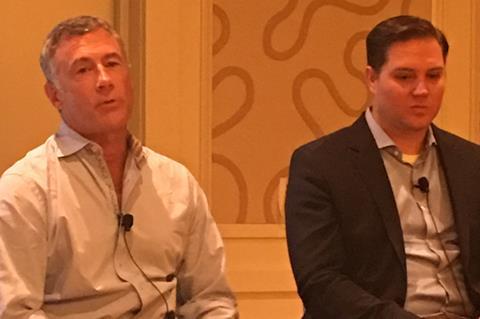 Insurers have lost the competitive edge they have on reinsurers in the battle to back innovators, says the chief executive of Trov.
Scott Walchek (pictured left) told the audience at a session on disruption at the Guidewire Connections 2016 conference in San Francisco that some of the competitive advantages insurers have had are being lost in the fast-paced digital world.
He said insurers had strengths historically in technology, brand, distribution, a strong balance sheet and sound regulatory footprint.
But brand was now "thin" in the eyes of digital-savvy consumers, legacy-laded insurers were battling difficulties in technology and their distribution was becoming increasingly fragmented.
That left their regulatory footprint and strong balance sheet as strengths, but these were also two strengths of reinsurers.
Trov, a US-firm that offers customers a quick and easy way to insure their possessions using their mobiles, is partnering with Munich Re and AXA in the UK on some of its international projects.
Walchek said a "signal had been sent" that reinsurers were heavily invested in the strategy of backing innovators.
He said primary insurers were struggling with scalability issues, such as getting more business on the cloud.
However, insurers were showing initiative by hiring or employing people to find solutions on pieces of technology that they currently did not have.
When debating the future of insurers, panel member and Snapsheet founder CJ Przybyl (pictured right), remained optimistic. Snapsheet allows customers to notify their claims experience online.
Przybl said: "I don't think anyone will disrupt insurance. They [the insurers] will just buy them."