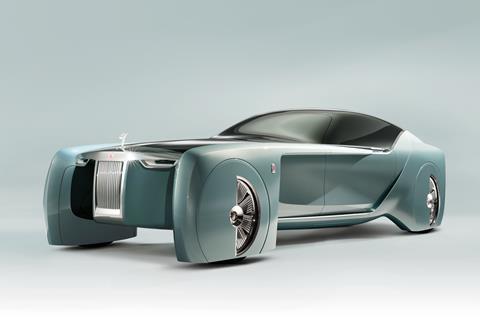 Rolls-Royce has unveiled its first driverless car which it claims is the "the future of luxury mobility".
The Rolls-Royce Vision Next 100 has no steering wheel, only one door and a virtual assistant.
Instead of a chauffeur the vehicle will be controlled by a female-voiced artificial intelligence programme, called Eleanor.
This virtual assistant learns the preferences of the owner, advises on journeys and can help the user with hotel bookings or wardrobe selections.
Rolls-Royce motor cars chief executive Torsten Müller-Ötvös said: "The grand arrival of the Vision Next 100 boldly points to a bright future, for our marque where our patrons' individual demands for complete and authentic personalisation will be met through an exquisite fusion of technology, design and hallmark Rolls-Royce craftsmanship."
Rolls-Royce is also trying to develop driverless ships through the Advanced Autonomous Waterborne Applications Initiative (AAWA) it is leading on.
The project looks at how remote and autonomous shipping can become a reality.
Rolls Royce has said that remote-controlled ships could be introduced within a decade.
Rolls-Royce vice president of innovation Oskar Levander said: "This is happening. It's not if, it's when… We will see a remote controlled ship in commercial use by the end of the decade."