Ford's driverless car has no steering wheel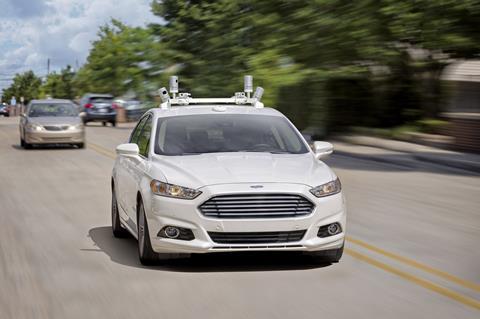 Ford has announced it will have a fully autonomous vehicle in commercial use in 2021.
The car, which will be without a steering wheel, accelerator or brake pedals, is specifically designed for ride-sharing and taxi services.
Ford will mass produce the car to make it affordable to more people.
Ford president and chief executive Mark Fields said: "We're dedicated to putting on the road an autonomous vehicle that can improve safety and solve social and environmental challenges for millions of people – not just those who can afford luxury vehicles.
"The next decade will be defined by automation of the automobile, and we see autonomous vehicles as having as significant an impact on society as Ford's moving assembly line did 100 years ago."
Ford is working with four Silicon Valley start-ups to develop the autonomous vehicle.
It has invested in light detection and ranging (LiDAR) sensors specialist Velodyne and 3D mapping supplier Civil Maps.
Velodyne creates light-sensitive radar sensors and Civil Maps will provide 3D mapping technologies that mean the driverless car can drive itself on any road.
Ford has also acquired SAIPS, which specialises in computer vision and machine learning. SAIPS have developed an algorithm that will help the driverless car learn and adapt to its surroundings.
The motor manufacturer said its partnership with machine vision company Nirenberg Neuroscience LLC, will help bring humanlike intelligence to the car's virtual driver system.
A recent report from KMPG showed that insurers are not ready for autonomous vehicles. It found that only 10% of insurers have strategic plans in place.