Using internships to bring on board talented young people was the focus of discussions at the latest Insurance Times roundtable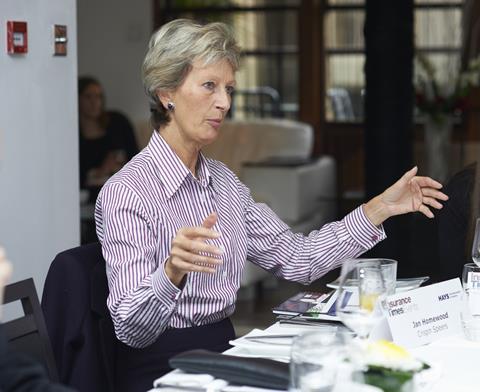 Insurance companies are reporting an increased appetite for internships as a way of attracting new talent, an Insurance Times roundtable heard last week.
Travelers human resources director Ian Dye told the event, sponsored by recruitment agency Hays, that his company was planning to launch an internship scheme in the UK after the success of similar initiatives by the company's US parent.
He said the staff retention rates of interns taken on by the company were "exceptional" - 95% compared with the rate of about 50% for those who joined straight from university.
He said: "It gives people the chance to see what the business genuinely looks like so they are not coming into it cold."
JLT Specialty human resources director Sarah Dunmore said the global broker was also focusing on internships as a recruitment ploy.
She said: "We've switched our attention to internships. There are lots of people willing to work. It's a very good way of grabbing talent at a very young age."
LV= head of human resources Paul Smith said the hiking of university fees by the government created an opportunity for insurance companies to attract talented young people into the industry.
He said: "Next year there's likely to be fewer people thinking about going to university and they might think about going into employment first."
Chartered Insurance Institute (CII) relationship manager for education Caspar Bartington told the event that the industry needed to capitalise on this opportunity. "Now's a really interesting time with the university fees issue, so it's important we get out into schools."
But he said the industry had a lot of work to do to attract youngsters, judging by a YouGov survey for the CII, which showed that just 15% of young people said they would consider a career in insurance.
Smith said LV= had launched a successful management trainee scheme for workers who had entered the business through its call centres, which suffer an annual attrition rate of 35%-40%. He said the initiative had helped the company retain talent.
Dunmore said that JLT's graduate trainee scheme had also led to a high retention rate. "In four years, we've only lost a very small number and that's just because their heads have been turned by large salaries," she said.
Soundbites
Keep them interested
"It will always be a challenge to keep staff, whether they are on a graduate scheme or not; you have to keep them interested." Sarah Dunmore, JLT
China offers the right skills
"If you want to get good, qualified technical people, China has the best education system that sets people up with the skills that we need in this environment." Paul Smith, LV=
Graduates expect too much
"Our managers are saying that they don't want graduates because of expectations and salaries." Paul Smith, QBE