RSA's combined ratio increase puts it on par with Aviva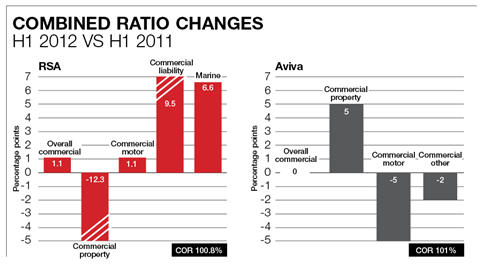 Commercial lines continues to be a thorn in UK general insurers' sides as RSA slipped into loss-making territory, putting it on par with Aviva for the first half of the year.
Aviva's commercial combined operating ratio (COR) remained steady at 101%. A five percentage point deterioration in commercial property offset improvements elsewhere such as in commercial motor. Meanwhile, RSA's 1.1 point increase in commercial COR pushed its commercial performance into a loss-making territory at 100.8%.
RSA suffered from a 9.5 point deterioration in its commercial liability COR, which dampened the effect of the 12.3 point improvement in the commercial property ratio, which now stands at 93.4%.
The UK chief executives of both firms have vowed to take more action to improve profitability in commercial lines.
While praising his company's five point reduction in commercial motor combined ratio, Aviva UK and Ireland general insurance chief executive Robin Spencer said: "The class of business we would like to have seen more progress on was the commercial property account."
RSA UK and western Europe chief executive Adrian Brown said, despite his company's 12.3 point commercial property improvement, "I'm not declaring victory on commercial property."
Brown explained that RSA's commercial property book was improving thanks to re-underwriting, rate hikes and a change in reinsurance purchase, but he noted the first half 2012 result had been flattered to an extent by one-off benefits such as reserve-releases from prior years.
He added: "There is still more work to do on commercial property and the underlying result is not as positive as 93%. My view is still that commercial property in the UK is underpriced by 10%."
There is some pessimism that commercial lines prices will rise in the current economic climate. While Ageas UK improved its commercial combined ratio to 100% in the first half of 2012, compared to 104.3% in the same period last year, chief executive Barry Smith said: "It is very difficult to find signs of rating improvement. There is a little bit in fleet and a little bit in commercial vehicle but broadly you wouldn't say you're seeing any rate increases in commercial."