The LMIE chief executive has a strong feeling that change is brewing in the market but when it comes to changing the business, caution is his byword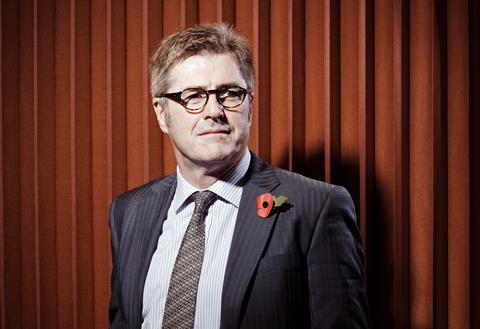 When Sean Rocks leaves work in London on a Friday night, he heads for the chilly beaches of the West Country in search of perfect kite-surfing conditions.
"I like the feeling like you're kind of on the edge but you're kind of in control. It's a good way of getting a buzz," says Liberty Mutual Insurance Europe's chief executive.
The pragmatic 57-year-old leans back in his brassy orange sofa, slinging his arm over the back while batting aside the suggestion of imminent danger. "It is risk, but you are controlling the risk. I am more conservative at work than doing my own thing."
"Kite surfing is a controlled risk. Occasionally it does get out of control and you have to bring it back. Much like in here," he says, as he gestures around his office.
Employee number one
For a man who has been running the London arm of US insurer Liberty Mutual Group since day one, Rocks is surprisingly unaffected by his increased power over time.
And his continued enthusiasm for carving out a successful future for the business is unmistakable. He speaks in measured, short, sharp sentences that are often peppered with industry jargon.
Liberty International Underwriters (LIU) was originally set up in Dublin in 1998 and expanded its operation to the UK in 2001, where it merged with a Liberty Mutual UK in 2002 to become LMIE. The Lloyd's Liberty Syndicate is separate from LMIE but is under the same US parent.
"I was employee number one in this. I started it up here. I just wish it had been my own money now, given how much
we have made for Liberty Mutual over the years," Rocks says, wryly.
It is easy to understand Rocks' regrets. At the end of 2001, the merged company had amounted gross written premium to the tune of $100m (£64m). At the close of 2011, Rocks expects GWP to be in excess of $700m.
A magistrate, not an emperor
So how has one of the most risk-controlled chief executives in the industry achieved success in a volatile market? Quite simply, he believes no man is an island.
"I am a magistrate, rather than an emperor," Rocks says. "I have views but I am willing to change those views if the arguments are right."
But although Rocks says his door is always open, make no mistake – he does not tolerate fools gladly. He is unapologetic in his belief that some chief executives in the market are too big for their boots.
"Nobody is omnipotent – and this is where some companies have gone wrong, treating people as such. I don't want that. I want people around me who challenge me on things because no one has the right answer to everything."
Giving it both barrels
And yet Rocks does think his next move is the right answer for LMIE, whose objective to date has been heavily focused on specialty lines. He says specialty business began losing its gloss a few years ago as it paradoxically became mass distributed in certain areas.
On the trail of success, Rocks smelt a whiff of gold coming from the UK mid-market and began digging furiously. His new approach, which he jokingly calls a "double-barreled shot gun", has created dual lines of business in specialty and property and casualty.
Aside from continuing to expand both lines of business across the UK, Rocks intends to spread his wings into Eastern Europe in 2012. Unsurprisingly, he is doing it one toe at a time.
"We have partnerships in Eastern Europe at the moment but as we move forward we are constantly monitoring whether now is the right time to set up a physical establishment there," he says.
This is less a case of indecision than just being extremely cautious when it comes to expansion; early in 2011, Rocks "backed away" from opening another office in the Middle East due to his personal concerns about the Arab Spring.
Change is coming
He is equally cautious in his predictions for the future of the London market. "There is something happening in the market at the moment," he says, leaning forward in his seat. He drops his voice slightly, and adds: "I can't tell you exactly what that is but there is a feeling that there could be a change."
Rocks is happy to speculate that the changes will not affect Europe but is certain that something is brewing, even if it takes a while to become clear. "We'll have to wait until the beginning of next year to find out exactly what will happen but I think the market is very much ready for a change."
Not the time to try new things
Yet when asked about big planned changes for LMIE in 2012, Rocks pulls the reins back hard. "I see 2012 as a year of consolidation, rather than stretching out and trying a lot of new things. We're not going to go and sell something completely different."
"We have invested a lot in broadening our distribution over the past 24 to 36 months. We are seeing business coming in and a lot of that expansion is gaining traction.
"Without being too aggressive, we're seeing responses from the brokers. We'll get growth from that but it won't be massive growth next year, absent of any major market change. I would have said in August that nothing is going to happen until 2013. I suspect that may happen a lot earlier."
Just as Rocks finishes pouring water on changes to come, the fire alarm blares through Liberty's London offices. True to form, Rocks is calmness personified, leading the way down eight flights of stairs to street level. We shake hands briefly goodbye before he goes to stand among his employees in the assigned area. Talk about controlling risk.