Nominations for the 2016 Tech & Innovation Awards close soon. Last year's winners talk about the difference an Insurance Times Technology Award has made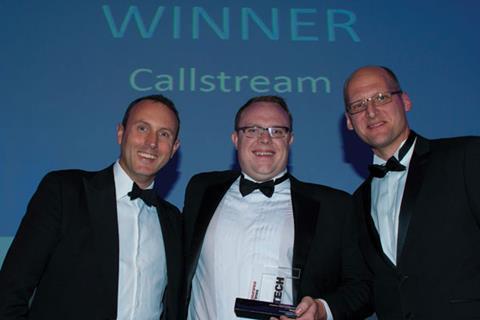 The cream of UK insurance will once again vie to be crowned as the most technologically savvy professionals in the industry at this year's Insurance Times Tech & Innovation Awards. The deadlines to enter is 15 June.
The awards ceremony, to be held on 22 September at the Royal Garden Hotel in London's swanky Kensington, will highlight the year's outstanding contributions to insurance through new technology, processes and products.
Last year's nominees ranged from industry heavyweights, such as Zurich and JLT, to small but nimble firms like Healthy Pets Insurance and claims management technology group DOCOsoft.
Click here today to give your team the recognition they deserve for their innovative work in insurance technology.
The significance of simply being shortlisted is huge for these firms: on hearing of being a finalist last year, call management experts Callstream director David Haynes said that "being shortlisted in 2015 demonstrates our continued commitment to deliver bespoke, highly effective, integrated call management solutions for the Insurance Broking industry." Callstream went on to win Technology Partnership of the year.
Ahead of this year's awards, Insurance Times caught up with four of last year's winners.
Here, they explain why the awards were important and how their prize-winning innovations have developed since.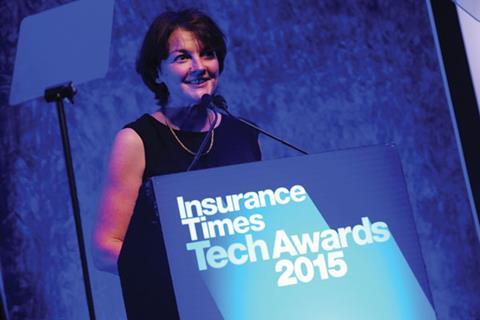 Direct Line Group – Technology Innovation of the Year
When Angela Morrison (pictured above) joined RBS Insurance in 2010 as chief information officer from supermarket chain J Sainsbury's, where she held the same role, the insurer's future was uncertain.
Direct Line's parent company, Royal Bank of Scotland, was in dire straits and even had to be rescued by the taxpayer during the 2008/09 financial crisis.
Part of RBS's recovery strategy involved spinning off Direct Line to form Direct Line Group, which includes well known brands such as Churchill and Green Flag, in 2012.
Morrison's task was to migrate systems out of RBS in three years. "We completed the exit, huge volume stuff, without any impact on the ongoing business," Morrison beams.
Morrison's 500-strong team was rewarded with the IT award. She says: "This has been great for the team's morale. It gives them pride; makes them feel good about what they do. We've since moved on to focusing on a long-term strategy with the call systems.
"Technology is becoming increasingly more important. People want to be able to buy their policies online, so we have to focus on the customer journey [online]."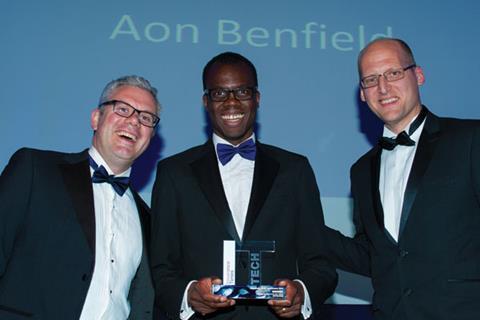 From left: Dean Roberts and Adrian McFarlane (Aon Benfield), with Insurance Times Editor Saxon East
Aon Benfield: Technology innovation of the year – broker
Aon Benfield's Portfolio Accumulation for Control & Evaluation (Pace) scooped the broker innovation award last year, after its entry illustrated just how effective it was at collating information for catastrophe reinsurance.
Pace business development executive Dean Roberts echoes Eddie Johnson's point that the award gave a "quite exciting and innovative product … credibility" at a time when it was just being introduced to the market.
At that time, Aon Benfield had two Pace customers, including MS Frontier Re, but now six firms are trialling it.
Also, since September's award win, Pace has been upgraded twice, allowing more accurate pricing. Roberts says Pace lets reinsurers "improve the profitability of their portfolios".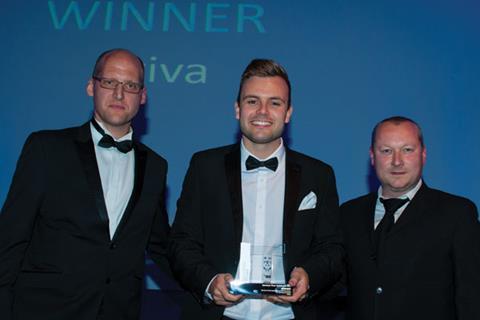 From left: Calum Weston and Nick Griffiths (Aviva), with Insurance Times Editor Saxon East
Aviva – Best Use of Technology to Improve Client Experience
Aviva won this prize for a new tool on its extranet called Fast Trade, which is designed to help brokers' work easier for business related to small and medium sized companies.
Brokers are automatically given previous quotes, meaning they do not have to key in the same details again.
Robert Ledger, Aviva's head of customer and e-trading provisions, says: "What the award did was to draw attention to something that had already been launched by our own sales team.
"Since then, we've improved the capability, so it's easier to find on the system. It has its own tab now, whereas previously you found it after clicking another tab."
Isis Insurance services – Best Use of Social Media
Manchester-based HGV specialist Isis founder and managing director Eddie Johnson was planning a new product launch aimed at classic lorries, such as the Atkinsons used by the nationalised British Road Services post-Second World War.
Isis decided to promote the product on Facebook through a page called 'Classic Lorries', which now has more than 42,000 'likes'.
"This Facebook page helped us engage with our target market," says Johnson. "This was effective social media marketing rather than paid marketing, so was cost-effective as well.
"The award helped because insurers recognise businesses who win it. This gave us credibility for what is a new product."
Johnson has been unfortunate in his choice of name for the company.
Where once Isis alluded to the Greco-Roman goddess of health, marriage and wisdom, it is now a common acronym for the Islamic extremist terrorist organisation in Syria and Iraq.
Johnson is now using Facebook to "soft market" a relaunch of the main "trading style" as My HGV Insurance.
Isis remains the formal trading name.