Competition that drove premiums down unlikely to be a factor as economy recovers and customers return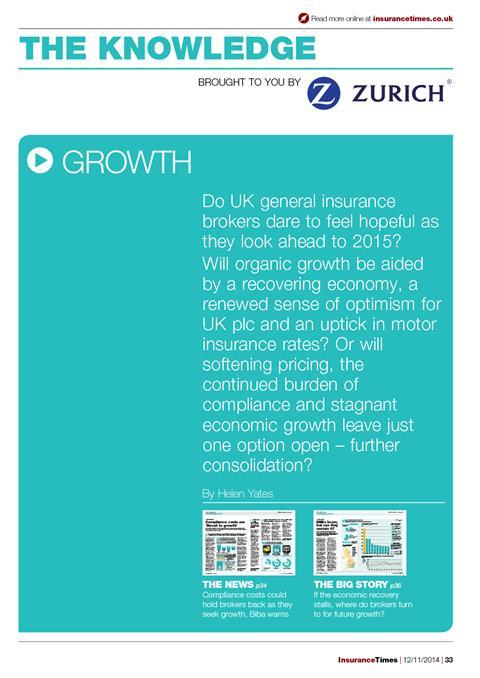 Organic growth in 2015 is likely to come from customer growth and rising insurance prices.
Which turns out to be the strongest will depend on the recovery of the economy, fewer debt restrictions on businesses - in particular SMEs - claims inflation, and competition levels in the insurance market.
In personal lines, the motor price reductions of 2013 and earlier this year have ended. In the quarter to end-September, the AA Shoparound quote for comprehensive car insurance increased by £6, the first rise since early 2012.
AA Insurance managing director Janet Connor says prices "are no longer sustainable" and that the plunge in premiums over the past year was caused by competitive pressures, rather than any real benefit brought about by the Legal Aid, Sentencing and Punishment of Offenders (Laspo) Act 2012.
To see a larger version of this graphic click here
The Act banned referral fees in personal injury cases from April 2013 and three months later extended the Ministry of Justice's fast-track claims portal to £25,000, cutting fixed fees for lawyers. While this has taken some cost out of the system,
in September Hill Dickinson head of fraud Peter Oakes said that Laspo was having little impact on fraudulent claims (see graph, right).
He said claims management companies and lawyers have got around the referral fee ban and that personal injury claims remain a "commodity". Fraudulent claims cost insurers £22m a year, with 65% coming from staged motor accidents.
Hastings Direct managing director Toby van der Meer says: "We have seen, in specific categories, some lower claims costs - mainly because of the savings from the MoJ portal - and that has been reflected by the fairly large price reductions we saw in 2013 and early 2014.
"We've seen some price increases in the second quarter and some of the same things as the AA announced with price tracking in quarter three.
"We would anticipate an environment where we and others will continue to put through price increases in targeted areas. But it's hard to know where that will unfold and a lot will depend on what happens on the claims side."
So far these pricing hikes on the motor side have not been reflected in home insurance premiums, where the long-term downward trend continues.
Despite a surge in claims during winter 2013/2014 following a cluster of storms and floods, overall the weather has been "relatively benign for the past couple of years", says AA's Connor.
Join the debate in our new LinkedIn specialist discussion forums