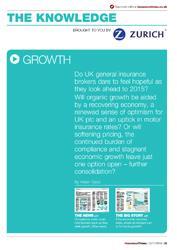 Evolving risks such as cyber liability and environmental liability are creating gaps in the insurance market.
Deloitte insurance partner Mark Mcllquham says "there are a lot of innovative products that brokers are designing".
"I've heard of Ebola protection products coming into the market for instance; the market continues to innovate and that's what is fantastic about it.
"Much of it is down to whether they catch on and there really is a consumer need."
Within cyber liability, changing legislation and the growing number of digital attacks is boosting demand for indemnity solutions in many industry sectors.
European legislation will soon require companies to notify their stakeholders about a data breach, within 24 hours where possible, and this has cost and reputation implications.
Click here to see a larger version of this graphic
Cyber surge expected
In the UK the average organisational cost of a data breach in 2014 was £2.3m, according to research company Ponemon.
Lloyd's chief executive Inga Beale predicts a surge in demand for cyber insurance following high profile breaches at JPMorgan and Home Depot.
Reinsurance broker Guy Carpenter recently launched a cyber crime insurance policy for SMEs. The product is provided by Ridge Insurance, a new Lloyd's managing general agency underwritten by five syndicates.
While clearly an important part of the solution, brokers themselves are not immune to digital attack.
Join the debate in our new LinkedIn specialist discussion forums