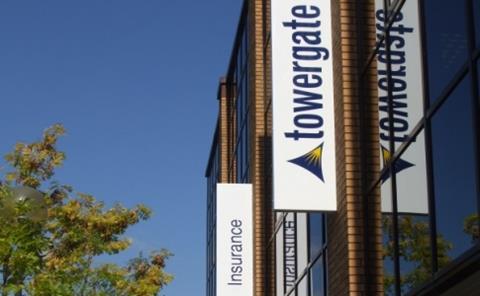 Towergate grew both its underlying profit and its revenue in the first quarter of 2017, continuing positive trends seen in the fourth quarter of 2016.
The news comes as Towergate's owners, HPS Investment Partners and Madison Dearborn Partners, are planning to merge the broking group with their other UK broking assets to form a UK general insurance broking powerhouse.
Towergate grows profit
Towegate's adjusted earnings before interest, tax, depreciation and amortisation (EBITDA), including run-rate savings, was £19.4m in the first quarter of 2017, up 42% on the £13.6m reported in the same quarter last year.
Excluding run-rate savings, adjusted EBITDA was up 51% £11.7m (Q1 2016: £7.7m).
Revenue increased 1% to £77.9m (Q1 2016: £77m) indicating Towergate's second consecutive quarter of organic growth.
The main reason for the improvement in profit was lower costs. Staff-related expenses fell 14% to £39.9m in the quarter offsetting an 8% increase in operating expenses to £18.6m.
As with the full 2016 year, Towergate's insurance broking business, its biggest unit, drove the profit increase (see table). Insurance broking adjusted EBITDA, including run-rate savings, grew 85% to £10.5m from £5.7m.
Continuing to build
Towergate chief executive David Ross said: "I am pleased to report that the strong performance we delivered in the second half of 2016 has continued in the first quarter of this year.
"Revenues have continued to improve to a point where we are reporting organic income growth once again.
"We have also delivered the third consecutive quarter of year-on-year growth in adjusted EBITDA, a reflection of just how far this business has come in a relatively short span of time."
He added: "Looking ahead to the rest of 2017, I am confident that Towergate can continue to build on the foundations of organic growth that are now in place across the business."
Towergate Q1 2017 adjusted EBITDA breakdown
| | Q1 2017 | Q1 2016 | change (%) |
| --- | --- | --- | --- |
| Insurance broking | 10.5 | 5.7 | 85 |
| Underwriting | 2.7 | 2.6 | 6 |
| Paymentshield | 6.8 | 5.9 | 16 |
| Central | -0.6 | -0.5 | -27 |
| TOTAL | 19.4 | 13.6 | 42 |