Stephen Catlin (pictured) to become executive deputy chairman of combined company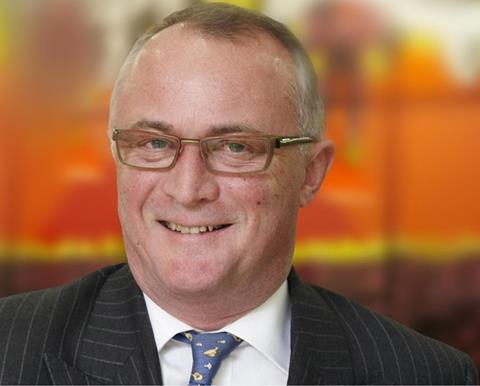 XL will pay £2.79bn for Catlin after the two companies agreed merger terms today.
This is higher than the £2.5bn expected when deal talks between the companies were announced on 17 December.
The confirmed offer is 2% higher than Catlin's net tangible assets of £2.74bn as of 30 June 2014.
The merger is expected to be completed during the first quarter this year.
XL will pay 3.88p in cash and 0.130 XL shares for each Catlin share. In addition, a final dividend of 22 pence a share in cash will be paid to Catlin shareholders.
After the merger XL will retain its legal name of XL Group, but the combined company will trade as XL Catlin.
XL chief executive Mike McGavick will be chief executive of the combined entity, and Catlin chief executive Stephen Catlin will become executive deputy chairman.
XL's current chief financial officer Peter Porrino and chief executive of insurance Greg Hendrick will retain their roles within the new group.
In addition, Catlin's chief underwriting officer Paul Brand will chair the combined entity's insurance leadership team and become chief underwriting officer of the insurance division.
XL's chief executive of insurance global professions Kelly Lyles will become deputy chair of the insurance leadership team and chief regional officer for the insurance division.
McGavick said: "We believe the transaction will accelerate each company's strategy, and address the meaningful structural changes we see shaping the property and casualty sector.
"Specifically, the combination will add immediate scale in specialty insurance, it will create a more efficient and more capable global network by bringing our two infrastructures together, and it creates a top 10 reinsurer with expanded alternative capital capabilities."
He added: "I am especially pleased that Stephen Catlin will continue with the combined company and, on closing of the acquisition, is expected to serve on our board. We will benefit enormously from Stephen's input in all strategic decisions and through our ability to leverage his vast market network as we implement the strategy of the new combined company."
Stephen Catlin added: "XL is a compelling partner for the Catlin business. Both businesses have been built on underwriting excellence and benefit from strong cultural compatibility.
"Together, the combined entity will be a market leading global specialty and property catastrophe insurer that will be far better positioned to respond to the changing dynamics that are impacting on the broader insurance and reinsurance markets."
Join the debate at our Insurance Times London Market Forum on LinkedIn