Rob Day carried two-year-old to safety after being alerted to the fire while repairing a car for the insurer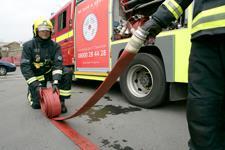 An Allianz Global Assistance UK roadside technician has saved a toddler from a burning house after a fire broke out in Oldham.
Rob Day was fixing a car in Bartlemore Street, Derker, when he was alerted to a fire further down the road.
He kicked down the door and with another man found two-year-old Tye Somerset screaming in a bedroom upstairs and carried him to safety.
The fire service arrived shortly after and found Tye's mother Danielle Somerset, 23, unconscious in the downstairs living room.
She is now recovering in hospital and the toddler is thought to be staying with family.
Day told the Manchester Evening News: "It's humbling and a bit embarrassing. I'm a big supporter of the fire brigade. They are the real heroes. They are the ones who do it every day of the week.
"It was one of those things. I'm a father of two girls and something took over.
"The over-riding thing was his panicky cry. Something clicked when I heard that and before I knew it I was in a house full of smoke. You don't think about yourself, just the child upstairs.
"Hopefully if someone else found themselves in that position and it was my children, they would do the same thing."
Join the debate in our new LinkedIn specialist discussion forums