Overall combined ratio up 1% as personal lines deterioration offsets commercial lines improvement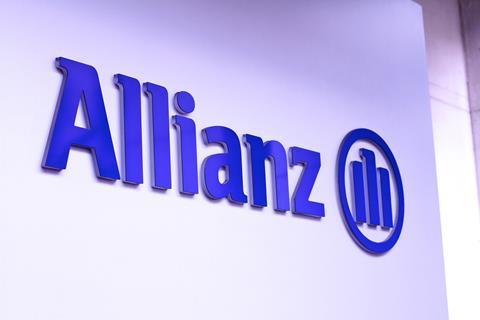 Allianz UK made an operating profit of £117.2m in the first nine months of 2014, down 8.9% on the £128.7m it made in the same period last year.
This was despite a 12.4% increase in gross written premium (GWP) to £1.64bn (first nine months of 2013: £1.46bn).
Underwriting performance deteriorated slightly, with the combined ratio increasing by 1.2 percentage points to 96.9% (first nine months of 2013: 95.7%).
Despite the profit drop, Allianz UK chief executive Jon Dye said: "I am pleased to report that the company's performance to the end of the third quarter is in line with our strategy to profitably grow the business.
"To emphasise this point, our combined ratio stands at a very healthy 96.9%, we have grown our revenue by 12.4% compared to this time last year and we have approximately 200,000 more customers than we had at the start of the year."
Allianz has a plan for its commercial business to deliver more pounds of profit than its rivals and for its personal lines business to enter the top five by 2018.
Dye added: "As we enter the final quarter of this year I am satisfied with what we have achieved so far this year which reflects the hard work and expertise of our people."
Personal lines slump
Allianz UK's personal lines business, which makes up 51% of the company's GWP, was the main cause of the deteriorating underwriting performance in the first nine months of 2014.
The personal lines combined ratio rose by 5.7 percentage points to 100.2% (first nine months of 2013: 94.5%).
Dye pointed out that this was an improvement over the 102.5% the personal lines division reported in the first quarter, when the company was hit by storm and flood claims.
He added that the performance "reflects the significant investment we have put into our digital capability in order to improve the customer experience across our retail business".
Despite the deteriorating underwriting profitability, Allianz UK's personal lines GWP surged by 20.1% to £836.5m (first nine months of 2013: £696.6m)
Dye said the company had enjoyed "good growth" in brokered personal motor and household, and that its corporate partner business boosted GWP by 36%.
He added that the direct business had delivered growth "in line with our expectations given the challenging conditions in the motor market".
The company's Pet Plan pet insurance offering grew revenues by 11%, and the Allianz Legal Protection legal expenses insurance business grew by 20%.
Commercial improvement
The slump in personal lines underwriting profitability offset an improvement in Allianz UK's commercial business.
The combined ratio improved by 2.8 percentage points to 94.2% (first nine months of 2013: 97%).
The division also grew, boosting GWP by 5.5% to £805.1m (first nine months of 2013: £763.1m).
Dye said the division had delivered "good GWP growth" across all classes of business, improved its new business and customer retention levels, and delivered underwriting profit from a wider base of brokers.
Allianz UK nine-month 2014 results
| | Nine-month 2014 | Nine-month 2013 | Change (%) |
| --- | --- | --- | --- |
| Overall | | | |
| | | | |
| Gross written premium (£m) | 1,640.9 | 1,459.7 | 12.4 |
| Operating profit (£m) | 117.2 | 128.7 | -8.9 |
| Combined ratio (%) | 96.9 | 95.7 | 1.2 |
| | | | |
| Commercial | | | |
| | | | |
| Gross written premium (£m) | 805.1 | 763.1 | 5.5 |
| Combined ratio (%) | 94.2 | 97.0 | -2.8 |
| | | | |
| Personal | | | |
| | | | |
| Gross written premium (£m) | 836.5 | 696.6 | 20.1 |
| Combined ratio (%) | 100.2 | 94.5 | 5.7 |