Chartered insurance firms outscored non-Chartered rivals in top-rated service dimensions across both personal and commercial lines. Four out of five insurers who scored highest for broker loyalty were Chartered firms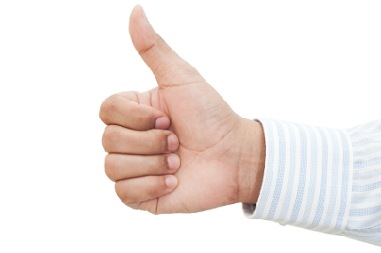 Brokers prefer doing business with Chartered insurers, rather than those without Chartered status.
That's the message carried in the latest Insurance Times Broker Service Survey 2015/16, which has just been published.
Analysis of the data showed that, in the five dimensions of service provided by insurance companies that brokers said were the most important, Chartered insurance companies consistently outscored their non-Chartered competitors across both commercial and personal lines.
And, in every service dimension except one – e-trading options for brokers – Chartered insurers were the top scoring companies.
Crucially, brokers were asked which insurance companies they were likely to do repeat business with, or which they would recommend to colleagues. In both commercial and personal lines, four out of the five companies who scored highest for broker loyalty were Chartered insurers, with one particular company topping both lists.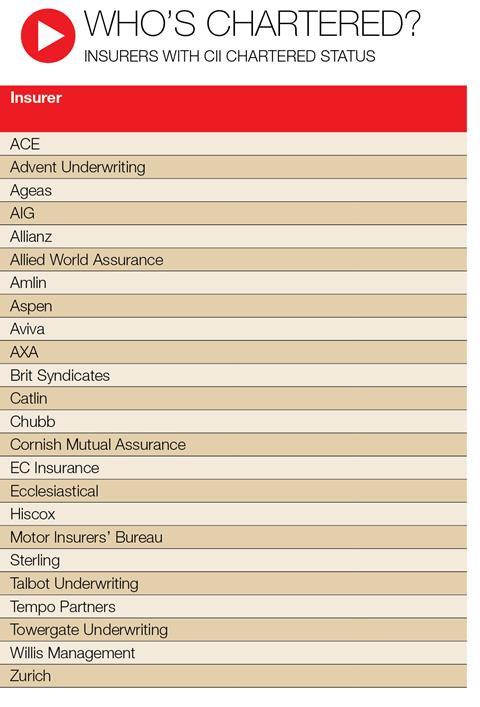 The same five service dimensions were deemed the most important factors in the broker-insurer relationship across commercial and personal lines.
Brokers said their top priorities were quality of cover, underwriting expertise and flexibility, ease of access to decision-makers at the insurance company, fairness of claims settlement and speed of claims settlement.
Across personal and commercial lines, Chartered insurers scored higher on average on quality of cover, fairness and speed of claims settlement.
Only in underwriting expertise and flexibility and access to decision-makers, did non-Chartered firms register a higher average score.
In every service dimension in both commercial lines and personal lines except one – e-trading options for brokers – individual Chartered insurance companies were ranked top.
And Chartered firms gained top spot even in all but one of the categories where non-Chartered firms outscored Chartered firms on average. In several categories, Chartered firms also placed second, third, fourth and fifth.
Stars of the survey, topping every service dimension except e-trading, were two Chartered insurers: Sterling, now owned by Covéa, and global insurer Chubb.
There were also strong performances from Chartered insurers Hiscox, AIG, AXA and Aviva, who placed strongly in most of the categories.
The Chartered premium is put fully in perspective when the top five service dimensions are weighted in line with the importance scores allotted to them by brokers.
For the weighting, each service dimension was rebased as a proportion of the importance score achieved by quality of cover, which had been voted most important for both commercial and personal lines. Then, an average score was calculated across the top five criteria.
On that basis, in personal lines, Chartered insurers achieved an overall score of 3.84, ahead of non-Chartered firms' average score of 3.81; in commercial lines, the scores were closer, but with Chartered firms still ahead at 3.69 to 3.68.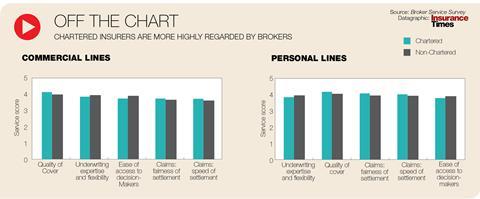 Click here for a larger version
"The fact that brokers rated Chartered insurers at the top of the five most important categories, in both commercial and personal lines, supports its status as the recognised gold standard of professionalism in the insurance industry," says CII marketing director Ian Simons.
"Chartered insurers as a whole outperformed non-Chartered insurers in terms of quality of cover – commercial brokers' number one criterion. They also outperformed in terms of claims settlement speed and claims settlement fairness," Simons notes. "These support the importance of customer-focused business practices as enshrined in the CII code of ethics.
"Although it's good to see Chartered insurers leading the table in terms of underwriting expertise and flexibility, and ease of access to decision-makers, not all Chartered insurers outperformed the rest in these categories," he adds.
"This suggests that insurers still have more to do to ensure that expertise is applied positively to finding customer solutions. It's a shift from: 'I'm an expert; I know best', to 'I'm a professional, I have a solution'."
To qualify for Chartered status, an insurer or insurance broker needs to demonstrate that a proportion of their employees and board are qualified to the appropriate level and are members of the CII.
Firms have to show that they have a professional development programme in place and have values and business practices that align with the CII code of ethics.
They must also be able to provide customers with access to an individually Chartered insurance broker or Chartered insurer on request.
More details on how to apply for Chartered status can be found on the CII website.
To find out more about the Broker Service Survey, click here