Social media for schemes can boost marketing and community-building, but schemes have been slow to pick up on chat and networking platforms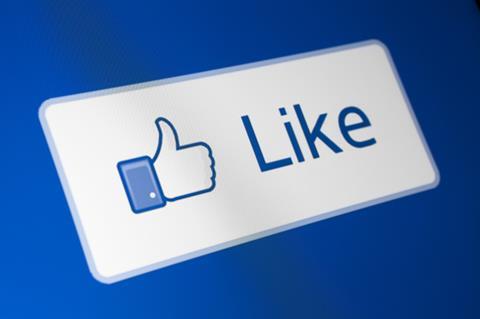 The growth in social media has been nothing short of meteoric in recent years, but insurance has been slow to catch on.
While the vast majority of the biggest players will have a presence on social media in one form or another, the insurance schemes market is lagging behind when it comes to its use of social media platforms to grow books of business.
Research from Ecclesiastical found that 57% of B2B schemes and 74% of B2C schemes are not using any form of social media in their search for growth.
For those that are entering into the social world, however, the big platforms lead the way with Twitter, Facebook and LinkedIn topping the table for the most used social media sites (see opposite).
Social media for schemes
Social media consultant Darshan Sanghrajka says that the growth in the number of platforms available to insurance companies means that schemes businesses can now target the specific niches they are looking to do business with.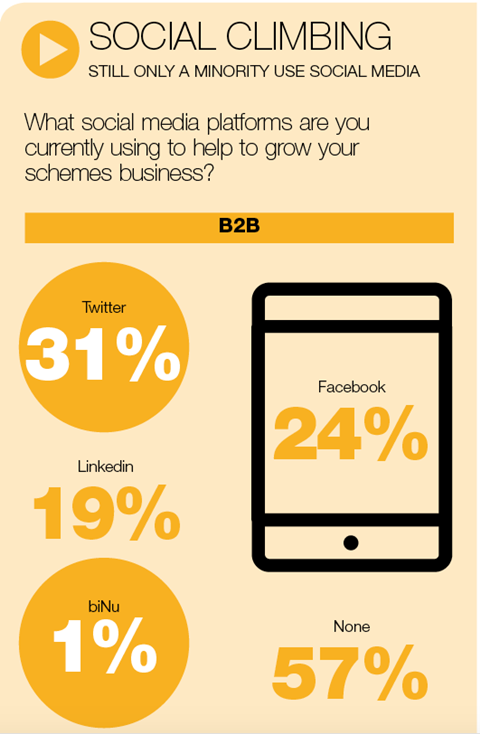 "There are a greater number of social media platforms compared to six or seven years ago, and there are niches for different types of people," he says. "We are seeing a lot more social media being used in those niches rather than just on the big platforms.
"We are now moving away from just using the big platforms like Facebook and Twitter; people are now using things like Snapchat and WhatsApp."
To make the most of the benefits of social media, however, Sanghrajka says insurance companies need to move away from the traditional form of digital marketing they have grown used to, and focus on engaging in ongoing conversations with their customers.
"People now understand that social media is a conversation, and it's really important that that conversation is interesting to the audience rather than being pushed on them," he says. "We are seeing a lot more interactive marketing going on. People are now using social media in a much more engaging way than they were before, and really thinking about creating a social media campaign as opposed to just continual spam.
"There needs to be a much more considered approach to what exactly the audience is looking for from that particular social media platform, and then building a campaign based on that."
"The best brands now understand that they should be having the conversation [on social media] continually. It is a human-to-human interaction; it is not a robot they are speaking to," he adds.
Community building
SEIB commercial director Suzy Middleton says her company uses social media to build a community within its equine insurance business and talk directly to the customers it is looking to target.
"We run a lot of marketing campaigns targeting specific clientele through different channels of business, and we now do a lot of digital marketing as well, especially on the equine leisure side," she says. "People love their horses, so we have a specialist SEIB Equestrian Facebook page and run competitions on there.
"We also sponsor riding competitions and are very active in those areas. After competitions, people post their pictures and the winners, and we do competitions to get people on board with that. It is very engaging, and we get a lot of response through that channel."
A social media revolution
Big brands such as Tesco and O2 have revolutionised the way business interacts with customers, using a mix of humour and high levels of customer service to engage with their customers and build a relationship that instils a sense of loyalty to the brand.
But Sanghrajka says insurance, and the wider financial services industry, has been slow to catch on to the social media revolution, often being too conservative in the way it interacts with customers.
Making finance interesting
"Financial brands are still playing it safe and are a bit dull, but that is understandable given the regulations faced by the financial sector," he says. "But they still haven't cracked how to create a conversation on social media and how to make finance interesting.
"But that message still has to be on brand. There have been brands that try to look cool, but what they are saying on social media does not tie in to what you see on the high street or on their website. It is really important to be authentic and not try too hard."
One way schemes businesses could look to engage with their target market is by taking established social media channels and engaging with users in a new and refreshing way that differentiates the business from other insurance companies using the same platform.
"LinkedIn is very useful, but it is dull," Sanghrajka says. "So there is a great opportunity to really stand-out if you can be creative. LinkedIn allows you to embed a YouTube video for example, so an insurance broker could create a short film that is profound and engaging and sits on LinkedIn for lead generation but, importantly, creates a conversation or starts a debate.
"It can't be a one way thing. You can't just put the video up and hope people consume it; you want that video to turn into a conversation. It's the same as getting a group of people into a room and having a chat, but most brands forget that. They broadcast and then don't carry on the conversation."