Ageas-managed insurance brands make up half of the top 10 home insurers, according to the latest data from Consumer Intelligence.
Age UK, Castle Cover, John Lewis and M&S are just some big name brands backed by Ageas that have proved popular with consumers.
Insurance Times can exclusively unveil the most recommended home insurers in UKGI, with the latest data from Consumer Intelligence revealing the 10 home insurance brands with the highest net promoter scores (NPSs) (see table).
The top 10 brands achieved an average NPS of 29.5 with scores ranging from 50.0 to 19.4. This compares with an average of nine for the market as a whole, with the lowest ranked brand scoring -27.6.
Ageas has made it easier for our teams to deliver great service

Ant Middle, Ageas
And with the top 10 performers representing a number of brands across various distribution channels, Consumer Intelligence insurance market specialist Jill Holland says it is clear to see that high customer satisfaction can be achieved regardless of the technology being deployed.
"There's a real mix of digital and face-to-face delivery models, direct and affinity brands," she says. "There's no strong leaning towards one type of brand or model, which goes to show that consistently delivering for customers can be done excellently in many channels."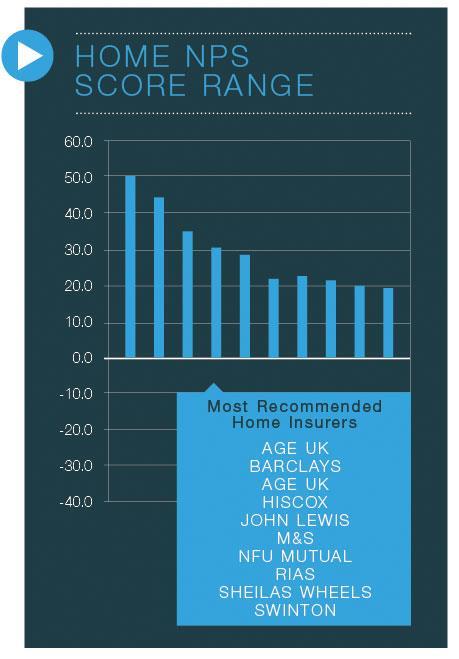 "A high NPS score isn't just a nice to have," she adds. "Engaged customers – who trust their insurance provider, believe they care about their customers and receive good service – are more likely to renew their policies."
One trend that can be seen from the brands that make up the top 10, however, is the prevalence of Ageas-managed brands such as Age UK, Castle Cover, RIAS, John Lewis and M&S, which make up half of the overall top 10 home insurers.
Ant Middle, Ageas chief executive, retail and partnerships, says this success has been achieved by ensuring a constant focus on the customer.
"Ageas has made it easier for our teams to deliver great service by tirelessly working to remove blockers that might get in the way, empowering our people, and continuously refining our customer journeys by applying the ultimate test … what does it really feel like for our customers?" he says.
Making it easy
"Our approach doesn't differ by product or brand as our mission is to make insurance personal and easy for all our customers, so we've removed superfluous questions, language has been simplified and scripts torn up.
"Should the unexpected happen we make sure we understand the customer predicament and work hard to find a solution that is the right one for the customer, quickly and efficiently."
Middle adds that it is this personal touch that is helping Ageas' brands achieve such high levels of customer satisfaction.
"The feedback we're getting from a broad section of customer satisfaction measures shows that these changes are giving our customers a quicker, easier and more personal experience of insurance," he says. "While we might take a moment to thank our teams for their achievements so far, we'll never stop looking for ways to improve our service."
Ross Garner, general insurance propositions manager at NFU Mutual, which has also ranked highly in this analysis, says the insurer's high levels of customer service and fast claims processing has helped drive up levels of customer retention.
"The acid test with any insurer is how well it lives up to its promise to deal with claims quickly and fairly," he says. "The combination of our personal service and our commitment to customer loyalty, through our Mutual Bonus, drives exceptional persistency and customer satisfaction.
"We believe these are the some of the reasons behind our top 10 ranking for customer recommendation and why 94% of our customers chose to renew with us last year."